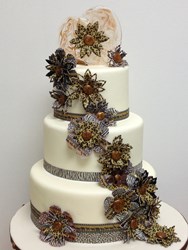 The design possibilities are truly endless with these innovative products. - Peggy Tucker
Winchester, VA (PRWEB) September 24, 2013
October 6 – 9, Peggy Tucker, Certified Master Sugar Artist, will join Chef Mike Terry, CMSA, TLC's Ultimate Cake Off and Bakery Pros and Michelle Curran of Food Network's Sugar Dome and Mitchies Munchies at the Icing Images booth in Las Vegas to demonstrate the edible printing company's new Spellbinders® Sweet Accents™ system using Premium Icing Sheets™.
Tucker also joins fellow, professional cake decorators Edna De la Cruz of Design Me A Cake and Food Network Challenge winner; Mike Terry, CMSA, Bakery Pros, TLC and Food Network star; Teri Tarbox, Simply Cakelicious; Sarah Myers, High Five Cakes, and Sidney Galpern, Simi Cakes as a Spellbinders Design Team member, selecting die cutters for Icing Images to carry and creating the designs displayed on packaging.
"I use Icing Images' iDesigns™ and Sweet Accents with Isomalt to create centerpieces, sugar toppers and to float designs between layers of sugar. The design possibilities are truly endless with these innovative products." – Peggy Tucker
A new Sweet Accents kit, the Peggy Tucker Edition, now bears Tucker's name and reflects her preferred choices of embossing folders and die cutters packaged with the Sweet Accents system, the only food-safe die cutting and embossing system on the market. Tucker, known for her work in blown and pulled sugar, frequently pairs cut-outs created with the system with Isomalt.
Tucker, aptly dubbed America's sweetheart of sugar by cake artists, has been instructing students in the art of cake decorating since 1999, specializing in sugar creations made with Isomalt. She has brought Isomalt to the forefront in the cake decorating industry by structuring her classes for every skill level. Tucker's teaching techniques led to the development of pre-cooked Isomalt in the form of sticks, manufactured by Cake Play. The easy-to-use sticks facilitated the use of Isomalt by professional and hobby cake decorators.
Tucker travels internationally to teach and judge cake competitions, occasionally participating as a competitor. Her accolades include numerous awards of her own.
Peggy is an acting member of the following clubs: ICES (International Cake Exploration Societe), 3 C's (California Cake Club), San Diego Cake Club and Texas Cake Club. She has been featured on local Rochester News stations, in the Rochester Woman Magazines, Fox News, Food Network, ICES Newsletters and in several cake decorating magazines, including American Cake Decorating.
Tucker's upcoming class schedule spans the mid to western coasts of the nation:
October 10 -14: Winter Wonderland Theme sugar sculpture at the Cake Works in Campbell CA. http://www.cakeworks.com
October 17-19: Show Stopper Isomalt Sculpture demonstration for gallery display. Sugar demonstration at the Edible Artists Magazine Booth. The Chicago Fine Chocolate and Dessert Show. Once exclusively chocolate, the show is now expanding to incorporate more sugar work and cake design. Navy Pier – Festival Hall A, 600 East Grand Avenue, Chicago, IL 60611, http://www.chicagochocolatefestival.com
October 20: ARIZONA'S Ultimate Women's Expo, Demoing for the ABC cake and Supply Store. http://www.azwomensexpo.com
October 27- 28: The Cake Cottage, Murrieta, CA. Fall Centerpiece made in Isomalt. http://www.thecakecottage.net
November 1: Chihuly-like Glass Flower sculpture, Do It With Icing, San Diego, CA. http://www.doitwithicing.com
November 3: Blown sugar Snowmen and Swan, Do It With Icing, San Diego, CA. http://www.doitwithicing.com
November 10: Swimming with the Fishes cake, Do It With Icing, San Diego, CA. http://www.doitwithicing.com
Icing Images has been a leading distributor of edible image and edible paper art supplies for over a decade. Edible image supplies such as edible image printers, edible ink, icing sheets, and electronic and die cutters are used by cake and confection decorators throughout the world.