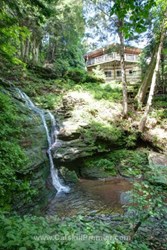 Margaretville, NY (PRWEB) September 29, 2013
When Pete and Jane Huffman were looking for a second-home getaway, having flowing water on the property was at the top of their "must have" list. "We love the idea of having running water nearby," said Huffman. "It allows us to connect to nature."
This desire to connect to the natural environment is important to many buyers of real estate in New York's Catskill Mountains, according to Eric Wedemeyer, principal broker of Coldwell Banker Timberland Properties, with four real estate offices in the Catskill Mountain region. "People, especially those from the New York City metropolitan area, are seeking a respite from the stresses of daily living," said Wedemeyer. "They tell us that just the sound of running water is restorative and very relaxing. It is almost primal to their spirits," he added.
While homes with ponds are not uncommon in the Catskill Mountains, according to Wedemeyer, owners often create very interesting water features that significantly add to the value of the property. He cited three homes that are currently available for purchase in which the owners have incorporated water to create unique settings.
One, located near the Upstate New York community of Downsville, was recently listed for $998,000. Built on the edge of a cascading 75-foot waterfall, the three bedroom, three bath home is described by listing agent Reg Oberlag as "one of a kind and can't be reproduced with today's building restrictions." The 10.8 acres features five waterfalls, forested landscapes, open lawns and mature gardens. "That relaxing sound all around you… the peaceful and meditative whooshing of the mountain stream cascading to the pool below where the splashing triggers an invigorating ion-charge in the atmosphere surround the waterfall house. This is truly a magical and mystical setting," added Oberlag.
For more information and a video of this home, click here.
Another home, located five minutes from Belleayre Mountain, features a man-made ten-foot waterfall with a splash pond. Wedemeyer describes the three bedroom, two bath home as "privately set with a porch from the master bedroom that overlooks the waterfall." Listed for $325,000, the home also features vaulted ceilings, fieldstone fireplace, and a solarium.
For more information and a video of this home, click here.
Sometimes, Wedemeyer added, having a river or large stream on the property is important to buyers. He described a home near the Catskill Mountain community of Spruceton, near Hunter Mountain, that is currently listed for $995,000. "The West Kill Creek, a noted trout stream, runs through the property," he said. "Having access to world-class fishing is important to some buyers." Wedemeyer observed that the home, with over 120 acres, is bordered on two sides by land owned by New York State. "The privacy afforded by this home is really pretty amazing."
For more information and a video of this home, click here.
"We love living with nature in the Catskill Mountains," said Huffman. "The sound of the rushing water is both comforting and exhilarating."
Coldwell Banker Timberland Properties, with offices in Margaretville, Boiceville, Delhi and Stamford, is the premier real estate agency of the Catskill Mountains in New York State. Buying and selling land and homes in the New York City watershed area is unique and the 30-plus agents of Coldwell Banker Timberland Properties are trained to help buyers and sellers through this process. For more information about Coldwell Banker Timberland Properties and to preview Upstate New York homes and land offerings, go to http://www.timberlandproperties.com or http:catskillpremier.com.