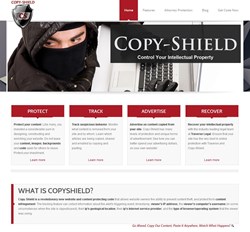 "Any website owner wanting to protect their investment can benefit from the protection provided by Copy-Shield"Erica Bowles
Sarasota, Florida (PRWEB) September 28, 2013
Marketing companies, designers, and business owners have long added the iconic © at the bottom of their websites to ward against copyright infringement. But do they see any real impacts by doing so? We only need to look at a recent lawsuit to find an answer. In an article written by the AFP, on March 21, 2013, titled "Online news 'clipper' loses US copyright case", A US federal judge held that Meltwater violated copyright laws by using excerpts from Associated Press articles. AP President Gary Pruitt stated that, "For years, all of us have been hearing that if it is free on the Internet, it is free for the taking, that is what Meltwater argued." The judge rejected every single argument.
Google's constantly evolving search algorithms are placing an increasing emphasis on unique content, and the cost of images and graphic designs are going up. As a result, many website owners are being subjected to unauthorized removal of their content, images, and codes. These actions are frequently committed by competing websites, often with little to no repercussion. Many website owners are not able to take action in response because of high attorney costs and the near impossibility of having to prove exactly when and how the content was removed.
Luckily, new software has been developed and introduced to the general public which combats these problems. Copy-Shield is a revolutionary new website and intellectual property protection software that provides website owners with the ability to prevent, protect, and recover content, images, and code that has been removed from their site. Copy-Shield includes an analytics dashboard that shows who is attempting to take down their intellectual property by displaying the alert triggering event, timestamp, IP address, IP's geological location, Internet service provider, and operating system of the viewer attempting to remove the intellectual property. Copy-shield was developed by Erica Bowles and Justin Mikula, who have worked in the digital marketplace for over a decade. According to Ms. Bowles, "I saw the need for Copy-shield two years ago, and with Justin's help we developed Copy-shield in a few months and we are thrilled with how well the system is tracking and functioning".
When asked about Copy-Shield's potential customer base, Ms. Bowles stated "Any website owner wanting to protect their investment can benefit from the protection provided by Copy-Shield. Justin and I developed Copy-shield specifically with major media outlets in mind such as The NY Times and the Associated Press. Copy-shield will not only protect their news articles and images, it also allows them to advertise and run a form of pay per click with their own advertisers, on their own websites content".