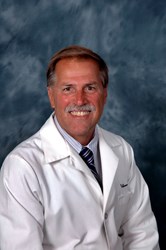 Parents and children who rely on inhaled corticosteroids to treat asthma symptoms want and deserve solid information, based on well-designed research, on whether these medications will affect the child's long-term growth.
Pittsburgh, Pa. (PRWEB) September 24, 2013
A recent well-designed study shows a link between children's use of inhaled corticosteroids for asthma treatment and their final adult height, warranting further investigation of a major health issue that to date has been marked with inconsistent and poorly-designed research, according to an article published by David P. Skoner, MD, Director of the Division of Allergy, Asthma and Immunology at Allegheny General Hospital (AGH), in the September 2013 edition of Allergy and Asthma Proceedings.
Inhaled corticosteroids (ICS) are commonly used to treat asthma symptoms in children, adolescents and adults and are generally considered to be safe for long term use. The medicine effectively improves lung function and reduces underlying inflammation without the side effects associated with oral corticosteroids but are known to stunt a child's growth in the short term.
Research on ICS's long-term effect on growth has produced conflicting results, and much of the research has not complied with U.S Food and Drug Administration guidelines, Dr. Skoner said.
"Parents and children who rely on inhaled corticosteroids to treat asthma symptoms want and deserve solid information, based on well-designed research, on whether these medications will affect the child's long-term growth," Dr. Skoner said. "Nine million children in the United States suffer from asthma, and their numbers are growing."
In July, an FDA panel recommended approval for over-the-counter sales of Nasacort, a widely-used nasal corticosteroid. Representing the American Academy of Allergy, Asthma and Immunology, the American College of Allergy, Asthma and Immunology, and the American Academy of Pediatrics, Dr. Skoner testified to the panel against approving OTC sales of Nasacort, citing the uncertainty about the medication's long-term effects on children's growth, and the possibility of adverse effects from combining Nasacort with other corticosteroids.
Dr. Skoner and his colleagues reviewed all studies performed with currently available ICS, noting their level of conformance with FDA guidelines. Of the three studies that followed the guidelines, one found that beclomethasone significantly reduced growth. Another showed no growth suppression over the course of a year with the use of flunisolide hydrofluoroalkane and another showed no effect on growth with the use of ciclesonide, though treatment compliance in that study could not be assured.
The impact on growth may vary by child, by the particular ICS used, by the length of time it is used, dosage used, and even by the child's gender, the researchers found.
For children age 5 years and under diagnosed with asthma, guidelines call for family education and counseling on the removal of environmental triggers from the home. If that approach is not successful, guidelines suggest initial treatment with inhaled beta-agonists, augmented with increasing doses of ICS. After symptoms are controlled for three months, the ICS dose is gradually decreased to the minimum necessary.
"The studies we reviewed indicate that ICS treatments for asthma may differ in their effects on growth," Dr. Skoner said. "The available long-term data is reassuring but additional, rigorously designed studies may be warranted to show that the currently available ICS treatments do not suppress growth."
Joining Dr. Skoner in research on the article were Ashton K. Bartholow, Department of Pediatrics, Allegheny General; Derek M. Deshaies, Juniata College and Julianne M. Skoner, Saint Francis University.
About the Allegheny Health Network:
Allegheny Health Network is an integrated healthcare delivery system serving the Western Pennsylvania region. The Network is comprised of eight hospitals, including its flagship academic medical center Allegheny General Hospital, Allegheny Valley Hospital, Canonsburg Hospital, Forbes Hospital, Jefferson Hospital, Saint Vincent Hospital, Westfield Memorial Hospital and West Penn Hospital; the Allegheny-Singer Research Institute; a soon-to open medical mall; and a healthcare group purchasing organization. The Network employs approximately 17,000 people, including more than 2,100 physicians on its medical staff. The Network also serves as a clinical campus for both Temple University School of Medicine and Drexel University College of Medicine.