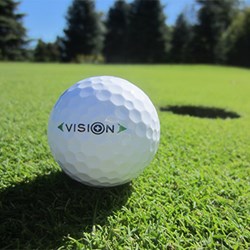 Toronto, Ontario (PRWEB) September 25, 2013
After a lengthy review period that looked at nearly every golf ball manufacturer on the market, Eat Sleep Golf has identified none other than Vision™ Australia as the most under-rated brand in this market segment. According to the results, based on performance, design and overall marketability, Vision™ stood well above any of its competitors, displaying the highest potential for future growth.
Since launching the Vision brand just over 8 years ago, it remains heavily focused on creating premium product designs to help golfers improve and enjoy their game more.
This focus is obvious from the get go by looking at one of their flagship products, the UVEE™ Yellow golf ball with the superior combination of its GelSkin™ RS -Type (Reduced SideSpin) cover formulation and the very bright sun charged UVEE™ STAYBRIGHT™ color technology. This unique US patented (#7179856) technology promotes increased ball visibility, absorbing the suns UV rays, making the ball brighter than any other design on the market today. Although apparent in lighting conditions, this feature is especially noticeable in low light conditions... and yes it will even glow in the dark.
This genuinely innovative approach, with such a focus on creative style, high quality and consistent product performance sets a new standard which helps to separate Vision products from all the other current golf balls on sale today.
The Vision ™ brand continues to experience steady growth and exposure, maintaining very strong direct relationships with consumer players through their Test Pilot Team Program. This program allows regular golfers to try new prototype product designs from the early stages of trials to pre-mass production and pre-release of models. The large amount of direct feedback and online forum support has provided a wealth of information that will continue to help guide future designs and concepts and ultimately help improve future Vision products. "From a marketing and sales perspective, the Vision brand is exactly what we look for," said Scott Stevens, Director of Innovations at Eat Sleep Golf. "They've effectively distinguished themselves from other brands with what I believe is a unique and superior product; I'm excited to be involved in introducing Vision Golf to the North American market".
Vision Design Team Leader, Wayne Bosley sees some clear positives from this new relationship, "we see the fit with Eat Sleep Golf as a great opportunity to now step out from under the radar and show the wider international golf industry where Vision™ is at right now, in terms of overall performance and cutting edge style but more importantly, where we are heading to in the near future."
Eat Sleep Golf will be working hand in hand with Vision™ over the months ahead to effectively promote the brand throughout Canada and the USA. This will include a variety of online promotions, press release announcements, marketing initiatives, re-seller opportunities, social media engagements and a crowd funding campaign for the upcoming 2014 Super UVEE™ design.
More information will be coming soon and will be available online at: http://www.eatsleepgolf.ca.
About Eat Sleep Golf
Eat Sleep Golf is a media and brand development agency focused on the golf industry. Working with brands focused on innovation and creativity, Eat Sleep Golf focuses their efforts on creating custom solutions that further enhance the vision of their clients in an effort of taking those brand to new heights.
"Drive it like you own it." http://www.EatSleepGolf.ca
About Vision-Australia
Vision-Australia is a 100% owned family business that has no fear of the much larger OEM brands. Vision brings to the golf industry many practical innovations in golf design from the productive long-term working relationship between the well known Australian father and son pairing of Bill and Wayne Bosley and their 80+ years of combined International golf industry work experience plus having both played at an International representative amateur level.
They have worked together with many of the industry's iconic brands and elite players during the years, PGF Australia / Ram Golf / Penfold Golf / Etonic Golf / Acushnet Company (Titleist / Pinnacle and Footjoy) / Dunlop Slazengers... and the majority of all the current Australian and New Zealand Professional Tour players on both the men's and woman's circuits around the world.
"See.Feel.Believe! with VISION™ visiongolfball.com