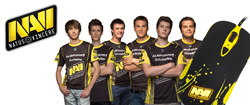 Copenhagen, Denmark (PRWEB) September 23, 2013
SteelSeries, the leading global manufacturer of gaming peripherals and supporter of eSports, today announced the new Sensei RAW Na'Vi Edition gaming mouse. With best-in-class switches and a pro-grade laser sensor, the SteelSeries Sensei RAW is designed to deliver the best in gaming performance. Its ambidextrous, all-grip design features the team's black and yellow colors and bright-yellow LED illumination in 3 zones – on the team logo, scroll wheel and CPI indicator, all of which can be configured for multiple levels of pulsation and brightness. As the mouse of choice for the Ukrainian e-Sports powerhouse, SteelSeries and the team designed this new edition Sensei RAW along with feedback from their community.
"SteelSeries' Sensei RAW is the mouse that most of our players use to practice and win with in tournaments," said Alexander Kokhanovskyy, Na'Vi's CEO and Managing Director "We have been working with SteelSeries as our sponsor for quite some time now and are thrilled to offer our fans a mouse that we not only use, but that has our own modern Na`Vi colors and style. I really hope all of our fans will like it!"
"We are a proud sponsor and supporter of Team Na'Vi and look forward to offering their fans and the community the mouse that they have helped to design, from its original hardware features all the way to the new design of their team edition," said Marc Winther Kristensen, SteelSeries' Sponsorship Manager.
The Sensei RAW Na'Vi Edition is powered by SteelSeries Engine software, where users are equipped with advanced customization options and the ability to create and store an unlimited number of profiles. The mouse also features XL-sized glides for a smooth, consistent movement and a 2m/6.5ft anti-tangle black and yellow braided, nylon cord.
The SteelSeries Sensei RAW Na'Vi Edition gaming mouse is $69.99 MSRP and is available on the SteelSeries Web Shop today. For more information regarding SteelSeries' Na'Vi Edition peripherals, please visit http://steelseries.com/navi for more information about the team and upcoming tournaments check out http://navi-gaming.com.
About Natus Vincere
Natus Vincere or Na`Vi (lat. - born to conquer) is a leading e-Sports multigaming club. It is the first team in Counter-Strike history to win three major tournaments in one calendar year - Intel Extreme Masters, Electronic Sports World Cup and World Cyber Games 2010. In 2011, Na`Vi.Dota won the $1 million grand prize at The International, the first ever Dota 2 tournament. Na`Vi attended 52 tournaments in 25 countries on three continents over the past two years.
About SteelSeries
SteelSeries is a leading manufacturer of top quality gaming peripherals from headsets, keyboards, and mice to controllers, surfaces, and software. For more than a decade, SteelSeries has been on the forefront of designing and creating gear for gamers. The company's continued innovation also comes in collaboration with the world's leading professional gaming teams and partners. SteelSeries is a global brand that continues to support the growth of competitive gaming tournaments and electronic sports leagues through professional team sponsorships, partnerships, and community support. For more information, please visit http://steelseri.es.