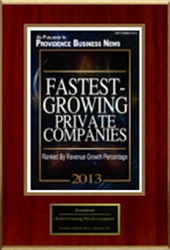 Providence, RI (PRWEB) September 24, 2013
Announcing a special recognition appearing in the September, 2013 issue of Providence Business News published by Providence Business News. Provdotnet, LLC was selected for the following honor: "Fastest-Growing Private Companies".
Ron Sacks, Managing Partner from Provdotnet, commented on the recognition: "This is quite an honor for us. The fact that Providence Business News included Provdotnet in its selection of 'Fastest-Growing Private Companies,' signals that our constant efforts towards business excellence are paying off. We are proud to be included in this recognition."
Following the publication of Provdotnet's selection for Providence Business News's Fastest-Growing Private Companies list, American Registry seconded the honor and added Provdotnet to the "Registry of Business Excellence™". An exclusive recognition plaque has been designed to commemorate this honor.
Prov.net provides multi-tenant data center services enabling "cloud" service providers and businesses to host their computer platforms in Tier 3 SSAE SOC2 facilities in Providence RI.
For more information on Provdotnet, located in Providence, RI, please call 401-441-5213.
Contact Info: Provdotnet
Phone: 401-441-5213
Email Address: ron(at)prov(dot)net
Provdotnet Selected For "Fastest-Growing Private Companies"
Source: Provdotnet, LLC