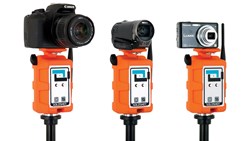 SOLOSHOT created a completely new product category - robot cameraman devices.
Austin, TX (PRWEB) September 23, 2013
SOLOSHOT, the leader in robot cameraman devices, today announced that the company's latest technology will be featured on the Discovery Channel's Daily Planet on September 26th as part of a recurring segment highlighting exciting new tech. The segment highlights how SOLOSHOT's patented hardware and software enables users to automatically keep their camera pointed toward themself, from distances up to 2000 feet away, resulting in stabilized professional quality dynamic images and video of their exploits without the need for a camera operator. Priced at $479 USD ($399 CAD), SOLOSHOT is significantly less expensive than hiring a cameraman and considerably more reliable than asking a friend or loved one to handle the camera for long periods of time, making it easy and stress free to record everything from that epic wave to daily soccer practice.
The Discovery Channel episode will focus on how SOLOSHOT created a completely new product category, all while developing it's own manufacturing capabilities in the Unites States. The company chose to go "lean" for research and development and a bootstrapping approach for manufacturing in order to avoid VC money, maintain control over its intellectual property and supply chain and grow the company through cash flow. Driven by demanding product performance and quality requirements, the company developed specialized manufacturing equipment and processes to optimize product performance and manufacturability – seeking dozens of additional patents to further increase the barrier to entry for competitors they were sure to inspire.
Reasons Behind SOLOSHOT's Lean Strategy

The up front capital needed to develop a product ready for turn key overseas manufacturers was not available. Keeping control of the manufacturing side allowed SOLOSHOT to bootstrap production through sales and scale it's way to self-sustainability.
First and foremost, the company had 1/10th the startup capital "experts" claimed was required to develop a shippable product and turn on a manufacturer. Chris and Scott decided they would rather spend their resources figuring out how to do it for 1/10th the cost rather than looking for 10x the money.
"Turn Key" manufacturers become both less turn key and less reputable as budgets and volumes decrease -- there was no "robot cameraman manufacturer" to call up so the company decided to just make it in-house.
Team is incredibly important because you are essentially betting on your own people because you don't have the cash to pay a supposedly proven expert.
We actually pulled our COO, back from China where he was a GE plant where he was the only westerner. The agreement to join SOLOSHOT was made while on a surf trip with Chris to Bali.
"SOLOSHOT began as a solution to a narrowly defined problem," stated Chris Boyle, co-founder and CEO of SOLOSHOT. "We set out to make it easier for surfers to get 3rd party perspective video of their surf sessions. We call this perspective the 'Hollywood angle', because it's the angle the guys with unlimited budgets go to for 99% of their footage. For most people however, especially surfers, this is the hardest angle to get because it's tough to ask a friend to stand on a beach for hours, pay close attention to you while you bob around for a few hours in a crowded ocean. To make matters worse, the filmer is probably squinting through a tiny viewfinder for hours on end with an uncooperative sun. It's cool that we developed a product that works great for surfers but is also being used by customers around the world to film everything from rugby in London to pole-vaulting in CA."
The SOLSOHOT can be purchased at SOLOSHOT.com and from hundreds of specialty retailers around the world. For more information about SOLOSHOT, click http://soloshot.com.
###
About SOLOSHOT
SoloShot Inc. designs, manufactures and distributes its products from the USA. SOLOSHOT is available at hundreds of specialty retailers in more than 18 countries as well as the company's website SOLOSHOT.com.
The SOLOSHOT personal robot cameraman, consists of a tripod base and a wearable transmitter that may be attached to a subject by a comfortable elastic strap. Simply mount a camera to the SOLOSHOT tripod base and attach the transmitter to the subject using the strap. After a simple pairing sequence, the SOLOSHOT base continually rotates to automatically keep the camera pointed toward the transmitter. The base rotates at speeds up to 80 degrees per second and can track the transmitter at distances up to 2000 feet away. Whether a racecar travelling 140 mph or a child slowly walking across a soccer field, the SOLOSHOT tripod automatically pans to capture incredibly smooth footage of the subject. The internal rechargeable batteries on both the SOLOSHOT base and transmitter last five hours. SOLOSHOT has several security options for instances where the SOLOSHOT base is left completely unattended.
SOLOSHOT was founded by board sport loving Engineers Chris Boyle and Scott Taylor when their paths crossed while riding out the 2009 financial crisis by living, surfing and kiteboarding in the Dominican Republic. Chris is a biomedical engineer with 28 issued patents, a startup background in medical devices and a wanderlust attraction to action sports. Scott is a chemical and mechanical engineer by trade who started what became the 2nd largest watersport operation in the Midwestern and was named a 2012 top five instructor by Wakeboarding Magazine.