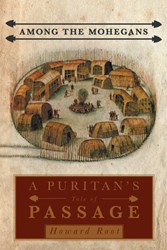 This is certainly an author to keep a eye out for. -Wanderlust
Rochester, New York (PRWEB) September 25, 2013
The author Howard Root is pleased to announce the first of many positive Amazon reviews for his novel, "Among The Mohegans". Reviewer "Wanderlust" credits the novel as a, "Great Read, Well written, and historically accurate." And the reviewer "M. McFly" calls the novel, "A remarkably enjoyable read!" and further compliments that "This book is well written."
"Among The Mohegans, A Puritan's Tale of Passage" has received both the Editor's Choice and Rising Star awards from his publisher iUniverse. The award designations signal that the author has met rigorous standards for excellence in writing and overall potential for commercial success. In this compelling tale, a young Puritan man faces raw challenges that test his faith and life in a new world as he searches for his destiny.
"Among The Mohegans" is competitively priced and available in 6x9 dust jacket hardcover, trade paper, and popular e-book formats with optimized search and "See Inside" features on Google Play, Amazon, and Barnes & Noble websites.
The author can be contacted via his website at HowardRootWrites.com, the new Facebook Fan Page—Among The Mohegans--and social media connections of Twitter and LinkedIn.