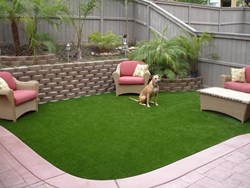 We have given RV enthusiasts an opportunity for a lush, green lawn wherever and whenever they travel, said David Hartman, EasyTurf President.
Vista, CA (PRWEB) September 24, 2013
EasyTurf is scheduled to debut RVLawn, its latest line of artificial turf, at the Recreation Vehicle Industry Association's (RVIA) 61st Annual California RV Show Oct. 11-20 in Pomona, Calif.
RVLawn is the lush green, alternative to the typical RV Park dirt and concrete lots.
"Outdoor living with an RV used to mean dry, dusty roads at camper's favorite parks, KOA's and beachside parking lots," said David Hartman, President at EasyTurf. "We have given RV enthusiasts an opportunity for a lush, green lawn wherever and whenever they travel."
RVLawn features EasyTurf's industry leading synthetic turf cut and rolled for easy transportation. Aside from aesthetic improvements, RVLawn will keep travelers, pets and kids cleaner and more comfortable. EasyTurf looks and feels like real grass, and eliminates dirt and debris from being tracked in to the RV.
"We want to give RV lovers the same comforts homeowners have with an outdoor living space to relax in. They can pull in to a campground or RV site, and unroll a beautiful green lawn," Hartman said. "The environment around the RV will be more comfortable and enjoyable, and when it's time to move, simply roll it up and roll out."
RVIA's 61st Annual California RV show will take place October 11-20 at the LA Fairplex. According the RVIA website, this is the longest running and most attended RV show with an expected 20,000 attendees.
About EasyTurf:
In May 2010 EasyTurf, Inc., a long-time distributor of FieldTurf's line of landscaping products and a recognized leader in the artificial grass industry, became the national brand of FieldTurf's landscape, pets, playground, and golf artificial grass products. The partnership allowed FieldTurf to rapidly expand its existing dealer network and accelerate sales and distribution of FieldTurf's landscape products on a national level to homeowners, municipalities, schools, businesses and the military.
EasyTurf is North America's preeminent source for landscaping, offering state-of-the-art synthetic lawns for realistic, beautiful, easy-care residential and commercial landscapes, providing specialty synthetic grasses engineered specifically for military surfaces, commercial and residential athletic and playground surfaces, putting greens, and for pet-friendly landscapes.
EasyTurf's product advancements in the synthetic grass industry have led to massive growth for the Vista, California-based leader in lifelike artificial lawns that stay beautiful year round.
FieldTurf has long been the world leader in synthetic sports field cover; now EasyTurf is poised to equal that success in the residential and commercial artificial grass landscaping markets.
Contact:
Jackie Luper, Director of Marketing
Phone: (760) 745-7026
Fax: (760) 888-2011