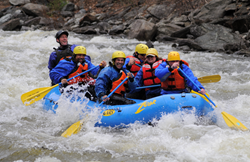 (PRWEB) September 24, 2013
Imagine this: You're in Stratton, Vermont, taking in the brilliance of the season as you ride along in a bus full of people, all decked out in whitewater gear, on your way to put in for Vermont's once-a-year whitewater rafting opportunity. The bus brings you to Ball Mountain Dam, one of the most impressive put-ins in New England, offering views of the reservoir and the river valley. From there, you descend along the 500 foot side of the dam towards the river that winds its way through the Green Mountains. The river is the West River, and it's the beginning of a day of whitewater rafting with Zoar Outdoor.
One of Vermont's hidden treasures, the West River offers one rafting opportunity a year on a beautiful section of class III and IV rapids. That one day every fall, Ball Mountain Dam releases enough water to fill the rapids and allow rafters to paddle their way through several miles of continuous class III rapids culminating in the class IV rapid, the Dumplings. No previous experience is necessary for this trip - Zoar Outdoor's guides lead you through all the rapids, steering the rafts down the gorge-like river route.
After the Dumplings, the trip pulls over to refuel with a snack before continuing down the second section of the river. This section contains mostly class II rapids, giving guests a chance to relax and take in the gorgeous views of the mountains decked out in their autumn brilliance. Once the trip winds down, guests ride back to the base at Stratton Mountain, where a warm barbecue awaits.
For more information on rafting the West River, visit Zoar Outdoor's website or call 1-800-532-7483.