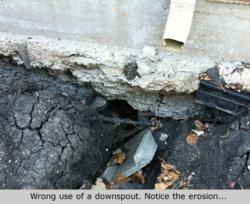 Dallas, Tx (PRWEB) September 25, 2013
Rain Storm and Foundation Repair
With the summer season over, soon it will be the wet season in North Texas. Foundation repairs are caused by the expansive soil under the house and the large variation of soil's moisture content. As soon as possible, the home owners should do a walk around inspection of the gutters and downspouts.
Before the storms, inspect the gutters for obstructions and leaks in the corners and seams. The large amount of water coming from the area of the roof needs to be evacuated. Homeowners should not under estimate the amount of water deposited around the perimeter of the house. "For every 1" of rain, the roof of 2,500 square feet will displace approximately 1558 gallons of water!" says Julie Goines, CEO of PremierFoundationRepair.com.
That amount of water can greatly alter the moisture content of the ground around the home's foundation and increase the chances for foundation repairs.
While inspecting the gutters and downspouts before a storm, also make sure the downspouts carry the water as far away from the house as possible, or at least 4 feet away or more.
During and after the rain storm, it would be a good idea to again take an inspection walk around the house. This is when leakage is most visible and also the proper drainage of the water is easily observed. In some cases the ground around the foundation has to be graded in order to drain the water away from the house.
Large amount of standing water around the home's perimeter is not a good sign and should be addressed as soon as possible. For more information about this ideas and other tips, please visit PremeirFoundationRepair.com blog.
--
Premier Foundation Repair‎
3767 Forest Lane
Dallas, TX 75244
(972) 417-0823
premierfoundationrepair.com‎