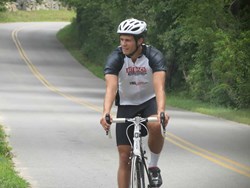 Tick-borne diseases are a national health epidemic and we need more government research to fight these lethal illnesses.
New York, New York (PRWEB) September 24, 2013
Today, the Tick-Borne Disease Alliance (TBDA) announced the launch of a two-month, cross-country initiative designed to heighten awareness, support research funding, and promote advocacy for Lyme and other tick-borne diseases. According to new findings from the Centers for Disease Control (CDC), Lyme disease is a "tremendous" public health problem, infecting 300,000 people every year, 10 times more than previously reported. If a tick bite is left untreated, the infection can move quickly to the brain and can result in a high fever (flu-like symptoms), severe joint pain, and neurological problems that are often misdiagnosed due to inadequate testing. In fact, more than 50% of those with the disease receive a false-negative result from laboratory tests.
In an effort to raise $50,000 to improve and change Lyme disease diagnosis and testing, 24-year-old John Donnally – who has fought the disease since the age of nine – will embark upon a two-month, 4,000-mile cycling journey from San Francisco to New York City. On Sunday, September 29, Donnally will be joined by fellow cyclists and local Lyme disease suffers to kick off this cycling tour as part of the TBDA's Bite Back for a Cure campaign. The initiative will raise funds to advance testing, research and treatment of an insect-borne disease that's growing faster than West Nile virus, according to the TBDA.
"The new CDC report confirms what the Tick-Borne Disease Alliance and others have been saying for years – that tick-borne diseases are a national health epidemic and that we need more government research to fight these lethal illnesses," said David Roth, co-chairman of the TBDA and managing director at Blackstone. "Bite Back For A Cure will help us build momentum on a national scale and reach local communities throughout the country to ultimately defeat these devastating illnesses."
A former Colgate University lacrosse player, Donnally – who was diagnosed with Lyme disease in 2003 and again in 2011 – hopes to connect with families and individuals who suffer from Lyme and other tick-borne diseases as he rides through large and small communities across the country. Donnally is scheduled to complete the ride in November as he traverses the George Washington Bridge on the final stretch towards New York City.
"By 2020, it's expected that there will be more than 600,000 new cases of Lyme disease every year, and one in five will likely suffer with long-term symptoms – just like me and my family," said Donnally. "Through my trip across America, I want to raise awareness and build support to defeat these debilitating diseases."
The TBDA invites the public to follow Donnally by sharing stories and support through its website at http://www.TBDAlliance.org; Facebook at http://www.facebook.com/TBDAlliance; and Twitter at @TBDAlliance, and include #CureLyme. You may also visit the TBDA website to learn more about Bite Back for a Cure, get involved and donate to the campaign.
About the Tick-Borne Disease Alliance
The Tick-Borne Disease Alliance is dedicated to raising awareness, promoting advocacy and supporting initiatives to find a cure for tick-borne diseases, including Lyme. As part of its efforts, TBDA is embarking on a quest to develop a reliable diagnostic tool as a first step toward eradicating the diseases. Working with others in the tick-borne disease community nationwide, TBDA seeks to raise public awareness through education and create a unified voice for advocacy regarding the current epidemic in order to make a real difference. More information about TBDA, Lyme and tick-borne diseases, and prevention and protection can be found at http://www.TBDAlliance.org.
Photo Credit: Stacie Van Brandenburg and Diana Bauer