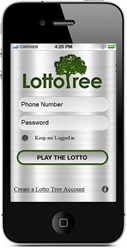 We shop online. We check into our hotels and airports online. We even share our most valuable pieces of information online. Now, the technology exists for the lottery to live online.
(PRWEB) September 26, 2013
Sign of the Times
Local app developer uses old-school fund-raising method to make dream come true.
Maurice Valentino, CEO of Incentive Games Technology — a Louisville-based software and mobile app development company — had an idea that could transform how people play state lotteries. His idea was a mobile app that will allows users to pick their numbers and even play scratch off games from the convenience of their phones, tablets or other mobile devices.
Using $100,000 in seed money, Valentino and his small team of developers took his rough idea and built a prototype app — dubbed LottoTree — with a host of features that lottery players would love. To take the next step of building the polished app, he would need capital. A lot of capital.
"By my best estimates I'd need $1 million to fully develop and market the app," Valentino explains. "Like most anyone in a tech start-up, venture capital seemed like the likely funding source." But unlike "most anyone", Valentino chose to seek funds via a rather unlikely and admittedly old school method: a billboard.
On 9-2-13, a billboard bearing the message "Donate $2 to help us build our lottery app. Roadto1million.com" appeared along I-65 at Exit 0 in Jeffersonville, IN.
Why in this age of Kickstarter and other funding options did Valentino choose to raise funding in this manner? The answer, he says, was an effort to stand-out from the crowd. "I have not seen this type of approach before," he says. "Kickstarter is a great tool. However, I didn't want my dream tied to being just some video amongst hundreds of others asking for the same thing. I wanted to differentiate myself."
But why ask for a $2 donation? "Well, we wanted to ask for an amount that's accessible for most lottery players," he says. "That's the typical price of a scratch-off or instant win game, as well as the cost for a ticket in most of the state lotteries. It just seemed natural."
Valentino credits the billboard with having generated nearly $90,000 to date. "We update the billboard frequently with the amount people have contributed to the cause: there's a more up-to-the-minute counter on our Roadto1Million.com website," he says. Visitors to the site can also view screenshots of the prototype app and learn more about Valentino's company.
"It may take us awhile to reach our goal," says Valentino. "But I'm confident we have the support in the community to make it. Once people have had a look at the prototype, the most common reaction we hear is: 'Let's make this happen.'"
Incentive Games Technology, Inc. is a Louisville tech company focused on creating games as incentives to achieve business objectives. Formed in 2012, the company's CEO is Maurice Valentino. For additional information, visit http://Roadto1million.com or call 310-770-1212 or 800-590-1751.