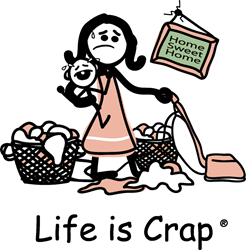 Hilarious Crap for the Ladies
Manchester, VT (PRWEB) September 24, 2013
The team at Life is Crap has decided to fully liberate itself and create a new line of hilarious Life is Crap expressions specifically for those discriminating ladies who deserve more credits. As Dick Van Dyke once quipped, "Women will never be as successful as men because they have no wives to advise them." …..And Marilyn Monroe mused, "I don't know who invented high heels, but all women owe him a lot."
"Life is Crap has always had a range of products for the female buyer, but wanted to expand the range and provide a more diversified collection of funny expressions specifically for ladies," says Paul Wheeler, a partner at Life is Crap, "I won't say that my wife has had a significant influence on this concept, other than to say fall is in the air, winter is around the corner, and I don't want to be left out in the cold!"  
Life is Crap is offering a new assortment of funny expressions available for ladies in 100% soft cotton garments, pre-washed and dyed in fashionable and fun colors. Apparel is reasonably priced and immediately available for purchase in a variety of different styles from traditional tees to fitted style designs by American Apparel.
Too cold for a T-shirt? Life is Crap also offers long sleeves and hooded sweatshirts. Great gift items like phone cases, mugs, thermoses, travel mugs and key rings can also be found at http://www.lifeiscrap.com in all these new expressions. 
"We do not believe that life is good all the time," says Ken LeFevre, another partner, "but we do believe that when life throws you a curve-ball, Laughter is the Cure. That is our motto. Our mission is to bring laughter into people's lives -- to enable them to overcome life's hiccups."
'Life is Crap' believes in the healing power of humor. The shirts and other products offer people a way to laugh off the challenging moments faced everyday. The 'Crapsters' at Life is Crap believe there is scientific and medical proof that laughter is the best medicine. "Many of our fans have said that being able to laugh at the 'Crappy' moments in life has helped get them through tough times" explains Paul Wheeler.
Visit http://www.lifeiscrap.com to see some of the new and exciting women's products and fun expressions. 
"Crap Happens, laughter is the cure!" 
About Life is Crap®
Life is Crap® is a humor based apparel company, with a focus on tees, hoodies, and gift items. Our brand focuses on crappy situations and pokes fun at the humor within those situations. At Life is Crap® we believe that the universal cure to crappy situations is laughter. We believe that poking a little fun at ourselves, and the world, is the best way to get through those occasional lousy moments. Life is Crap® is the flagship brand of Offsides Branding & Licensing. For more information visit lifeiscrap.com or offsidesbranding.com.