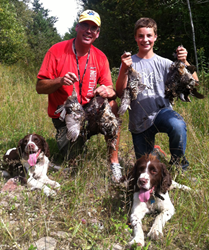 'Hunters are welcome to bring their bird dogs as several of our cabins are 'pet friendly',' said Minnesota resort owner, Eric Hanson.
Cook, MN (PRWEB) September 25, 2013
September 14 marked the 2013 season opener for grouse hunting in northern Minnesota and Pehrson Lodge welcomes hunters with off-season rates and spectacular natural habitats where wildlife abounds.
"Pehrson Lodge offers fall rate discounts of up to 45% off of the peak season rates. Fishing and hunting are fantastic, as is the fall color display. Hunters are welcome to bring their bird dogs as several of our cabins are 'pet friendly' said Minnesota resort owner, Eric Hanson."
Autumn at Lake Vermilion offers the most spectacular color displays as the maple, ash, birch and poplar trees explode into a riot of reds, yellows, oranges, and pinks, all accented with the deep green hues of the pines and the crystal-like blues reflected from the lake and sky. Lake Vermilion itself encompasses nearly 40,000 acres of water, 365 islands and 1200 miles of shoreline. Walleye, Northern Pike and Musky readily take the bait as they fatten up for the coming winter.
Pehrson Lodge offers 28 beautiful housekeeping cabins, including 7 cabins which are designated as 'pet friendly' situated on 2000 feet of prime shoreline. The resort offers a full lineup of watercraft for guests, with pontoon boats, fishing boats and ski boats available for rent, plus free use of kayaks, sailboats, hydro bikes, canoes, paddleboats and wind surfers. The immense wilderness surrounding the Lake Vermilion area is rife with opportunities to experience the great northwoods of Minnesota, much as it was when Pehrson began serving guests in 1902.
The fall 2013 grouse population is at the lower end of the cycle, however, the Vermilion, Cook and Orr areas are outstanding for bird hunting. Even in a low year, the abundant habitat provides some good opportunities. Multiple area forest service roads provide access to thousands of acres of public land. A recent hunting excursion reported grouse in heavy cover requiring quick shots. The first bird to flush often got away in thick cover, but subsequent flushes of the covey produced success with 2nd, 3rd or 4th flushes.
In addition to the hunting and fishing opportunities during the fall, birders are able to log dozens of species as migrating birds pass through on the way to warmer climes. Photographers can capture images of the stunning color displays and the active population of wildlife preparing for winter.
Autumn is a magical time to experience an authentic Minnesota vacation with cooler temperatures, no bugs, good fishing, hunting, birding, photography and sight-seeing, plus the advantage of discounted end-of-season rates.
The Hansons provide a warm welcome to each guest and are always happy to assist visitors in finding the perfect combination of activities and interests best suited to their idea of an unforgettable Minnesota vacation. For complete information on the resort, the area and the lake, visit http://www.pehrsonlodge.com.