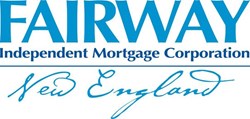 Auburn, MA (PRWEB) September 24, 2013
Bill Murphy of Fairway Independent Mortgage Corporation will be giving away two tickets to the December 29th Patriots vs. Buffalo game. The winner will be drawn on November 25th, 2013. The seats are in section 139, row 24, and are aisle seats. To enter, people must become a fan of the Fairway Independent Mortgage Facebook page found at https://www.facebook.com/fairwaynewengland.
Each year, Bill Murphy is involved with various charities and giveaways, but this is a favorite of his and Fairway Independent Mortgage Corporation's clients as well. The Patriots are looking good this year and it is shaping up to be an extremely exciting season.
About Bill Murphy:
Born and raised in Worcester, Bill Murphy has been in the mortgage business for more than fifteen years. A Certified Mortgage Planning Specialist™, Bill continues to attend workshops and seminars on the mortgage industry to stay abreast of new trends and products.
Bill believes in giving back. He sponsors the Make-A-Wish foundation where he gives a portion of proceeds to making wishes come true. He has granted about 11 wishes so far, averaging 2 per year. Most recently, Bill hosted a Worcester Sharks event in honor of the Why Me organization, of which 274 of his clients attended. Bill donated $5 per attendee for a grand total of $1370 benefitting the children of Why Me.