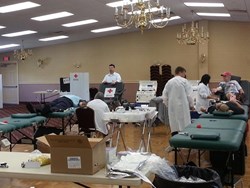 Auburn, MA (PRWEB) September 30, 2013
Once again, Bill Murphy of Fairway Independent Mortgage Corporation shows his dedication to his community, both near and far. On October 7th, 2013 from 1-7pm, the Red Cross will be taking blood donations, preferably by appointment, at the Auburn Elks, 754 Southbridge St., Auburn, MA 01501. All donors will receive a voucher for a free half hour massage and other gifts from local businesses.
Blood drives are a huge source for the Red Cross to be able to supply hospitals and patients all over the country. Unfortunately, there is never a shortage of those needing blood donations. Bill Murphy is stepping up to do his part. Eligibility questions can be answered online at http://www.redcrossblood.org or by calling (866) 236-3276.
About Bill Murphy:
Born and raised in Worcester, Bill Murphy has been in the mortgage business for more than fifteen years. A Certified Mortgage Planning Specialist™, Bill continues to attend workshops and seminars on the mortgage industry to stay abreast of new trends and products.
Bill believes in giving back. He sponsors the Make-A-Wish foundation where he gives a portion of proceeds to making wishes come true. He has granted about 11 wishes so far, averaging 2 per year. Most recently, Bill hosted a Worcester Sharks event in honor of the Why Me organization, of which 274 of his clients attended. Bill donated $5 per attendee for a grand total of $1370 benefitting the children of Why Me.