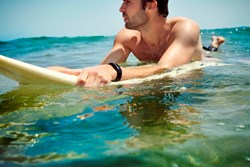 Polar Loop delivers your activity times with intensity, guides you on how to reach your goals, measures steps, calories, sleep time as well as periods of inactivity
Bozeman, MT (PRWEB) September 24, 2013
Polar Loop has just come out, rattling the cages of existing activity trackers like Nike Fuelband, FitBit and Jawbone says the Heart Rate Watch Company. "Here is why we think the Polar Loop now has the best features in the space," says Rusty Squire, President of the Heart Rate Watch Company.
In The Water
All of the other activity tracker bands are at a deficit for being able to track activity in water, like swimming or water aerobics, so this is naturally a big advantage for those wishing to measure activity that also enjoy water sports.
Heart Rate Data
Polar Loop can be used in conjunction with a Polar H7 or H6 Bluetooth Smart heart rate strap to record heart rate data with your iPhone 4S, 5 or 5S. "None of the other activity trackers allow you to record and analyze heart rate data in conjunction with activity data," says Squire.
Experience
Polar has been the most trusted name in activity measurement since they built the first heart rate monitor back in 1977 and they have produced other activity based products in the past, like the Polar FA20. "We have complete faith that Polar will produce the best possible product," says Squire.
Mobile and Web Based Apps
Polar has developed an entirely new Polar Flow Mobile App and web service specifically to support the Polar Loop. This app has unique activity based smart coaching that none of the other activity trackers on the market offer.
"Polar Loop delivers your activity times with intensity, guides you on how to reach your goals, measures steps, calories, sleep time as well as periods of inactivity," says Squire. He adds, "It really is the consummate activity band."
Availability
"Polar Loop will be delivered sometime in early to mid-October but customers are already ordering the Loop now on our website," says Squire. He adds, "We won't charge your card until they ship."
"If you'd like to talk to a real fitness expert simply give us a call at the Heart Rate Watch Company toll-free at 866-586-7129," says Squire. He adds, "We'll ask a few questions, assess your needs and come up with the ideal product to help you reach your fitness goals."