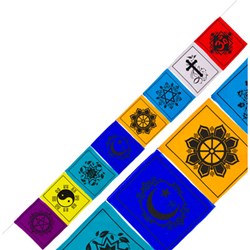 Canaan, VT (PRWEB) September 23, 2013
International Peace Day serves as a reminder that harmony and serenity should be welcomed into our hearts and homes every day. Mahatma Gandhi once said "You must be the change you wish to see in the world". When we, as individuals, focus on welcoming harmony in our lives, on developing understanding and compassion for ourselves and one another, then true peace can begin to take hold in the world.
The experts at The New Age Source have selected the following products designed to welcome more peace and harmony into your life and space.
Sacred Symbols: Sacred symbols like the OM and Namaste reconnect us with our source and serve as a gentle reminder that at our core, we are all connected. The OM represents the primordial sound of creation itself. Namaste reminds us that in our heart center, each of us is the same.
Prayer Flags: Our multi-colored, beautiful prayer flags are one of our top-selling products. They are inscribed with many reminders that foster peace and harmony. Love, Peace, Harmony, Happiness, Friendship and Courage. Love breathes life into the heart and brings grace to the soul. To bring peace to the Earth, strive to make your own life peaceful. Use these flags to welcome harmony and increase the spiritual vibration of your space.
Herbal Peace Candles: Our Reiki charged, handcrafted all-natural soy peace candle creates a tranquil environment and calms the mind with a custom, fragrance blend of all-natural essential oils that also invite healing and harmony. It is inscribed with the following reminder: "May my mind, heart and soul reach a state of perfect serenity. May all my thoughts and actions reflect my pursuit of a peaceful and tranquil existence."
Incorporating these items into your home or space will enhance your own spirituality and help you welcome harmony and order into your life.
To view more offerings from The New Age Source, visit http://www.thenewagesource.com.
About The New Age Source:
The New Age Source is a leading retailer of high quality metaphysical products. The New Age Source strives to offer each customer personalized inspiration to assist them on their path to inner peace and healing. The New Age source offers a variety of products inspired to promote peace and harmony. Our products make excellent gifts that anyone will appreciate. Enhance your space with items that encourage serenity and enhance higher spiritual awareness.