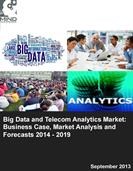 Big Data driven telecom analytics market to grow at a CAGR of nearly 50% between 2014 and 2019.
San Francisco, CA (PRWEB) September 30, 2013
Big Data opens a vast array of applications and opportunities in multiple vertical sectors including, but not limited to, retail and hospitality, media, utilities, financial services, healthcare and pharmaceutical, telecommunications, government, homeland security, and the emerging industrial Internet vertical.
With access to vast amounts of data sets, telecommunications companies are emerging as major proponents of the Big Data movement. Big Data technologies, and in particular their analytics abilities, offer a multitude of benefits to telecom companies including improved subscriber experience, building and maintaining smarter networks, reducing churn, and generation of new revenue streams.
In particular, mobile network operators have already begun Big Data investments to facilitate analytics. For example, South Korea's SK Telecom is utilizing the technology to cut churn and to generate new revenue, while many others such as AT&T and China Mobile, are eyeing opportunities to generate revenue from the subscriber data they hold in their back-office systems.
Mind commerce anticipates the Big Data driven telecom analytics market to grow at a CAGR of nearly 50% between 2014 and 2019. By the end of 2019, the market will account for $5.4 Billion in annual revenue.
More information about the report is available from Mind Commerce at:
http://mindcommerce.com/Publications/BigDataTelecomAnalyticsMarket_2014-2019.php
About Mind Commerce
Mind Commerce has been in the business of independent technology and market research for over ten years. Our practice focus is telecommunications (fixed and wireless) and various ICT areas including Internet based infrastructure, commerce, content, and applications.
Contact Mind Commerce at 1 877 MIND COM (877 646 3266).