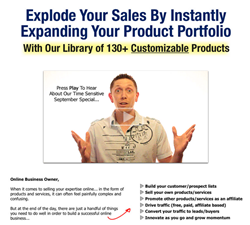 Customizable content supports rapid product delivery saving busy marketers hundreds of hours of time which can be put back to work in areas more specific to their talents.
(PRWEB) September 25, 2013
One of the biggest hurdles facing marketing coaches and internet marketers is having access to a constant inventory of quality content they can share with their clients, but which they can change to incorporate their own brand. That's where private label rights, also known as white label, content is used to fill the gap.
Creating new, unique content is a costly variable in a marketing formula. Gone are the days when a business could get away with outsourcing content development to cheap writers in third world countries. The writing quality was poor and business owners were reluctant to have their brand tied to material which reflected poorly on their business.
This is where the founders of Best Quality PLR determined they could fill the need for quality content which businesses could confidently customize with their own brand. The "white label" concept is a proven practice in many industries. One company invests in the research, production and manufacturing of a quality product and licenses the product to other companies which brand it with their own label.
Companies which subscribe to Best Quality PLR with this offer get immediate access to over 130 products plus everything that is published in 2014. This offer is only available for a limited time.
About Best Quality PLR Products
The content published by Best Quality PLR includes eBooks, tutorials, inspirational writings, infographics, advertising banners, minisites and eBook creatives as well as recorded audio and video material. The research, writing and creative design work is complete. All the buyer has to do is place their brand on the work. Product topics vary from internet marketing, to health/fitness, to self-help and motivational products. Clients include offline consultants, community colleges, and marketing coaches. See their complete product library and qualify for the product discount. This discounted subscription offer expires at the end of the month.