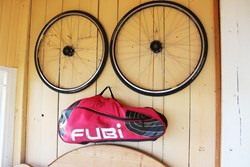 FUBi is the most compact full-sized foldable bike in the world
Vaasa, Finland (PRWEB) September 27, 2013
Sick and tired of having his bike stolen while studying in Stockholm, Ulf Laxström decided to design a foldable bike that was easy to store and transport. Unlike most other foldable bikes, though, the bike would retain all the functionality and styling of standard, full-sized bicycles. The solution is called FUBi.
When folded up, and without the wheels, FUBi fits inside a tennis racket bag. FUBi can be easily stored under a bed, in a closet, in the trunk of a car, and so on.
FUBi is even more than that, Laxström says…
-FUBi can be folded in two ways: one fast way, and one optimally compact way.
-FUBi can transform into to a fast road bike, a city bike/dirt road bike, or even into a mountain bike.
-FUBi is an easy "Do-it-yourself" bicycle kit.
-FUBi has identical front and back wheels with extremely narrow hubs (and two wheels that fit nicely in one hand).
-FUBI has its very own and well-functioning FUBi fast-shift derailleur system. This makes the bike very well suited for town and city use because of its fast down shift (from highest to lowest gear in under one crank revolution).
"Currently, a wrench is used to tighten bolts as the bike is unfolded and folded, but the need for a wrench will be replaced with a better system when the bike goes into production," Laxström says. "Although, I imagine the FUBi will be sold as a kit and will need some tools for initial assembly."
FUBi will be made of titanium, which, according to Laxström, is the ultimate material for bicycles.
"Titanium is almost as light as aluminum, strong as steel, and doesn't rust," Laxström says.
FUBi will be in two sizes: FUBi 25 and FUBi 27. The current main model is a 26-27 inch wheel model with seven gears, a wheelbase of 1,080mm, overall length of 1,230mm, width handlebar tip-to-tip of 600mm, and weight of around 9.5 kg when assembled. When folded up, the bike measures about 800mm x 250mm x 165mm (this not including the wheels, as they will fit nicely in one hand).
The FUBi Titanium Project on Kickstarter
Currently FUBis are still prototypes, but the team says that they going to launch a project on Kickstarter.com in a few weeks to get production started on the titanium FUBi.
They are also currently having a pre-campaign on Facebook were users can win a free FUBi titanium: https://www.facebook.com/FUBiBike
Laxström says that they already have established contacts with different manufacturers, so that the production of the FUBi should start relatively soon. He also says that a significant part of the development work will be conducted by contractors who specialize in different areas.
"We think that FUBi is the ultimate bicycle," says Laxström, "Because of the awesome flexibility it has in how you can use it. I hope the FUBi flexibility leads to an increased use of bicycles, which are considered to be the most environmentally-friendly means of transportation available."
Contact:
Ulf Laxström
fubi(at)fubi(dot)com
Korsholm 65610
Vaasa,
Finland
+358 44 9530371
http://www.fubi.com
Presentation video:
http://www.youtube.com/watch?v=Mrymxs5ZIrw
http://www.facebook.com/FUBiBike