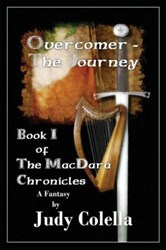 Orlando, FL (PRWEB) September 25, 2013
Judy Colella's new young-adult fantasy novel, "Overcomer – The Journey", connects an otherworldly genre to the issues young people face today.
"I want kids who read my fantasy novel to understand they are not alone in confronting trouble, and that there is a good and even heroic way in which they can respond," says Colella, who is also a musician and singer.
"Journalists have no shortage of bad news to report both locally and worldwide: child abuse, bullying, sexual abuse and more. Our children need more real heroes – not those with X-ray vision, but people who understand the tremendous power in the choices we make, and who can help us try hard to make the right ones."
Colella's fantasy novel follows Cian MacDara, born in Donegal, Ireland in 537 A.D., who has a destiny that will take him across time and continents. To fulfill it, he needs the help of Druids, angels and the friends he makes in modern-day Connecticut. But before his ultimate purpose is achieved, he must survive the journey.
To keep him from succeeding, the darkness that wants to destroy him uses its considerable powers to end his quest, and he is faced with a choice: either give in to the pain and despair, or overcome the odds and complete his destiny. The balance of Time itself awaits his decision.
"I just finished 'Overcomer - The Journey', Book I of the MacDara Chronicles. I bought it for my teen age grandson and wanted to be sure it was something he might enjoy. I found myself immediately caught up in it. Ms. Colella has put together a book that is rich in imagination and appeals to adults as well as teenagers," writes Amazon reviewer Frank Varenchik, who gave the book five stars. "In short, a good read. I look forward to Book II."
"Great read," writes Amazon reviewer C.T., who also gave the book five stars. "… the author has a wonderful knack for making the characters and the plot come alive ... If you are a fan of time travel and fantasy/magic stories, it does not get any better than The MacDara Chronicles."
About Judy Colella
Judy Colella is a musician, singer and author of a young adult fantasy series about a boy from 6th century Ireland who finds himself in an abusive modern-day American foster home. As a child, Cian MacDara must travel across time and continents to fulfill his destiny. Judy, who lived in foster care as a child and was adopted by a loving family, says children and teenagers need to learn the power of the choices they make. For more information visit http://www.themacdarachronicles.com.