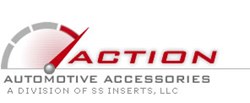 Scottsdale, AZ (PRWEB) September 23, 2013
Action Auto Accessories, the web's leading source of Mustang parts and Corvette accessories, is now offering ten dollars to new customers just for signing up for a free account on their web site. The financial incentive being offered to new customers can be used towards the purchase off any Mustang accessories, Corvette parts, or other products on the company's website.
The company has been a major player in the Mustang and Corvette parts scene for many years. The company offers a wide selection of original and aftermarket parts and accessories for the Corvette, Mustang, and GTO enthusiast, along with many other makes and models of muscle cars. The owners of the web site are dedicated to enthusiasts who need new parts or accessories for their favorite vehicles, or those who just have an interest in adding a few extra pieces to their completed car projects.
Action Auto Accessories features a wide selection of products, including polished billet grilles, panel stripe kits, inner fender covers, headlight covers and stainless steel inserts just to name a few. The company specializes in Corvette accessories and Mustang accessories, but also provides products for Camero, GTO, Hummer, Celica, Challenger, Thunderbird and many, many others.
The company has developed a solid reputation on the web over the years, becoming one of the top destinations for discounts on Corvette parts, Mustang accessories and many other products. The company is dedicated to those who have a passion for American muscle cars and want the highest quality after market accessories and parts to go with their vehicles. Many enthusiasts throughout the internet muscle car community give praises to Action Auto Accessories for their wide range of products, great pricing, quick shipments and quality customer service.
The ten dollar credit for signing up with the website is instantly credited to new user accounts upon signup. Users can then use the credit towards any purchase on the website. The company also offers free shipping on all purchases within the continental United States.
To learn more about the company, their Corvette and Mustang parts, or the ten dollar signup offer, visit their accessories website located at http://www.actionautoaccessories.com.