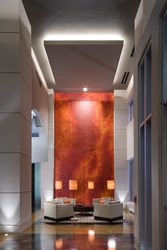 My passion for design is heightened when working with Bristol. As a development group they are forward thinking, allowing me to be creative as a designer. It's a win-win relationship for all of us.
Dallas, Texas (PRWEB) September 24, 2013
Few developer/designer duos can boast the ongoing success and national recognition that Moore Design Group and Bristol Development Group together have achieved. Since teaming up in 2002, the powerhouse pair has completed more than a dozen properties, establishing a longevity and tenure that is rare in this industry. MDG's designs have imparted an urban look synonymous with upscale living and have launched Bristol's efforts in developing high-rise luxury multifamily properties in addition to the garden style apartments for which they are already well known.
In 2006, Bristol and MDG principle Stephanie Moore Hager captured national attention for their innovative designs that revitalized Nashville's The Gulch and transformed the former rail yard and warehouse district into a trendy new urban neighborhood. ICON in The Gulch, known as Nashville's "hippest urban condo," broke records when it sold out of all 217 initial-release condos in an unprecedented 48-hour time period. The ICON has garnered MDG more recognition than any other single property, including the prestigious National Association of Home Builders (NAHB) Pillars of the Industry awards.
A boutique hotel in Las Vegas inspired the winning design concept for ICON. Taking inspiration from several elements within the space, Hager put her own MDG spin on the design and created a motif that was hip, trendy, elegant and luxurious but not over the top. "Bristol Development truly has vision," Hager said. "My passion for design is heightened when working with Bristol. As a development group they are forward thinking, allowing me to be creative as a designer. It's a win-win relationship for all of us."
Also in Nashville, Velocity in The Gulch is a multifamily development aimed at young professionals seeking an affordable urban lifestyle. Located in a thriving pedestrian district, Velocity has been recognized on a worldwide stage as a model for progressive city living. The design places heavy emphasis on connectivity and personifies a youthful flair, an out-of-the-box motif for which MDG has won Dallas Design Ovation, Texas Legacy of Design and Pillars of the Industry awards.
Bell Historic apartment community in Franklin, Tenn. proved to be another successful venture in the already well-oiled machine of MDG and Bristol. Completed in fall of 2012, it was the first multifamily property built in the area in more than 30 years. The exterior and interior designs of the property jive with the original features and architectural elements of the history-rich Factory at Franklin.
Staying true to her commitment of being a "vision keeper," Hager continues her work with Bristol on their most recent prestigious project. Offering "modern flair interwoven with classic design," Tapestry Brentwood Town Center in Brentwood, Tenn. is the city's first high-density housing development. Scheduled for completion in spring 2014, the property will bring more than 600 residents to an area where few upscale multifamily housing options currently exist.
The dynamic developer/designer duo is not limited to the confines of Tennessee and has completed projects across the nation, including Alabama, Virginia, Texas and Florida. The Solara apartments are the newest luxury multifamily community in Sanford, Fla., opening this October and offering uncommon amenities and upscale, trendy designs.
"Bristol and MDG have both made names for ourselves by doing distinctive projects that go beyond the ordinary and the necessary, and we collaborate so very well together," said Ashlyn Hines of Bristol Development Group. "Stephanie [Moore Hager] is a master at being able to deliver what we want; we get the look we want; at the budget we need to achieve our goal. She is off the charts in professionalism, her integrity is incredible and not only that, she is a really fun person to work with."
With 12 projects in 12 years behind them, MDG and Bristol continue to dominate the urban marketplace as a collaborative multifamily sensation. MDG's focused design solutions that unite function and style, partnered with Bristol's commitment to excellence, promise to embody the developer's vision on many more projects to come.
Established in 1991, Dallas-based Moore Design Group has earned a reputation as the leading designer of multifamily living communities in the United States. Lists of projects, media coverage, awards, team bios, photo galleries and more are available at mooredesigngroup.net.