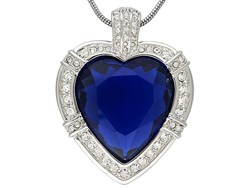 This is the first time JTV has ever taken a show outside of their Knoxville studios.
Knoxville, Tennessee (PRWEB) September 24, 2013
Jewelry Television has announced that the network will broadcast live from the Titanic Museum Attraction in Pigeon Forge, Tenn. on October 4th. The special programming will feature the Titanic jewelry collection set among artifacts from the RMS Titanic. Hosted by Jamie, the Titanic Museum Attraction's first class maid, airtimes are as follows:

12:00am-2:00am ET
4:00-6:00pm ET
10:00-midnight ET
"We're excited to help share the stories of the iconic women of Titanic through jewelry," said Kris Kulesza, vice president and general merchandising manager for JTV. "The timeless style of the jewelry worn 100 years ago continues to resonate with women today and it is our intention to honor their memory."
The Titanic jewelry collection has been one of the network's most popular lines and several new styles will be revealed during the live broadcasts. Each piece in this fashion jewelry collection is inspired by an actual Titanic passenger and most are representative of the Art Nouveau, Edwardian, or Victorian eras.
"This is the first time JTV has ever taken a show outside of their Knoxville studios and we're thrilled and honored to break new ground with them. We look forward to working on site with their great staff in presenting the Titanic Jewelry Collection in an authentic Titanic setting," said Museum Attraction co-owner, Mary Kellogg Joslyn.
The Titanic jewelry collection retails from $29.99-$149.00 and may be purchased online at jtv.com/titanic.
About Jewelry Television®
Jewelry Television® (JTV) is one of the largest multichannel retailers of jewelry and gemstones in the U.S. appealing to fashion-conscious women, jewelry-making enthusiasts and private collectors. The privately-held shopping network broadcasts high definition programming, 24 hours a day, seven days a week, to more than 80 million U.S. households. Committed to consumer education, the network employs numerous Graduate Gemologists and Accredited Jewelry Professionals. JTV.com offers the most comprehensive jewelry and gemstone Learning Library on the internet, and is the third largest jewelry website according to Internet Retailer's Top 500 Guide for 2012.
About Titanic Museum Attraction
Titanic Museum Attraction: Cedar Bay Entertainment, LLC owns and operates the Titanic Museum Attractions in Branson, Missouri, and Pigeon Forge, Tennessee. A privately owned-and-operated entertainment and development company, Cedar Bay is headquartered in Branson, Missouri, the site of its first Titanic Museum Attraction. Since its opening in 2006, Titanic Branson has welcomed more than 5 million "passengers" aboard the museum. Titanic Pigeon Forge opened in 2010 and has already welcomed 2 million visitors. Recently named Winner of the 2012 TripAdvisor Certificate of Excellence, The Titanic Museum is not to be missed declares USA Today. For additional information about the museums visit http://www.titanicattraction.com or call (800) 381-7670