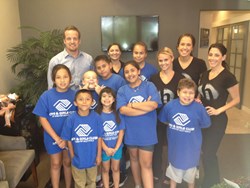 "It was an awesome day," said Dr. Brian Harris, "we felt very blessed to give back to the communities."
Scottsdale, AZ (PRWEB) September 25, 2013
Local dental practice, Harris Dental, known for their dedication to the community and expertise in oral care, is pleased to announce the grand opening of two more locations. The new offices located at 20511 N. Hayden Rd., Ste. 150 in Scottsdale and 3200 S. Alma School Rd., Ste. 103 in Chandler will offer full dental services for the entire family. Both offices opened last Wednesday, September 18th.
In celebration of the grand openings, Harris Dental teamed up with several local charities Wednesday and offered free dental care for the day to their beneficiaries. An entire dental team was at each location offering services and donated over $10,000 in free dental care. They teamed up with The Boys & Girls Club of Scottsdale, ICAN in Chandler, Chandler Gilbert ARC, A New Leaf in Chandler and Save the Family Charity. "It was an awesome day," said Dr. Brian Harris, "we felt very blessed to give back to the communities."
Dr.'s Joe and Brian Harris will be practicing at the new locations, both bringing unsurpassed customer service and expertise in oral technology, Harris Dental is known for. For more information on Harris Dental's new locations, visit http://www.harrisdental.com or call (480) 994-5555 for the Scottsdale office or (480) 878-5570 for the Chandler office.
About Harris Dental
Harris Dental truly appreciates the trust Phoenix metro area has placed in them. They are constantly striving to provide the highest quality cosmetic dentistry, Invisalign, and dental implant care possible to the community. Harris Dental is dedicated to treating people and improving lives. For more information please visit http://www.harrisdental.com.