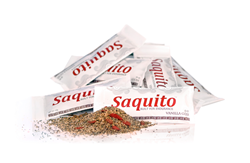 We are excited to offer Saquito Mix into more markets and look forward to meeting with the right people to make this happen
Palm Beach Gardens, FL (PRWEB) September 24, 2013
Saquito Mix is expanding business by vending at this year's Natural Foods Expo East in Baltimore, Maryland September 26-28. Saquito Mix launched its Chia Energy Mix product in March of 2013, was accepted into all of Florida's Whole Foods Market stores soon thereafter. After success and acceptance in its hometown market of Florida, Saquito Mix is ready to expand the distribution of their product into other natural foods channels and regions.
"We are excited to offer Saquito Mix into more markets and look forward to meeting with the right people to make this happen at Expo East," says CEO and Founder Zach Azeez. "Our product has done well on our home turf in Florida. We have realized that that has been more of an accomplishment than we first thought. It turns out that Florida is not a place new food companies look to prove a concept because in terms of setting new trends it is scene as a laggard in the industry. We're really excited to bring Saquito Mix into more trend setting markets like the Rocky Mountain, Southwest, SoCal and NorCal regions; places where 'chia' is more of a household name."
At the Expo Saquito Mix will be debuting a new flavor in their chia energy mix, Cacao Goji. "I've been refining this formula for months, the people we have shared it with are always asking when they can get more and we're now ready to make it more available," says Azeez.
On the business end, Saquito Mix has prepared for their expansion by recently hiring 20 year industry veteran Devon Miller as their Master Broker and VP of Sales and Marketing. They have also begun a planning phase to develop their manufacturing capabilities to meet the increased demands for product.
All executive members of the Saquito Mix team will be in attendance at Expo East. There they will be talking with industry members, buyers, distributors and meeting with investors to discuss opportunities for growth capital as well as strategic alliances.
For those who will be in attendance of the 2013 Natural Foods Expo East you can visit the Saquito Mix booth (Booth #8418) to try a sample of their product and meet the founders.