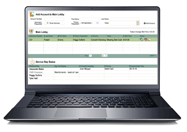 Alpharetta, GA (PRWEB) September 25, 2013
FMSI, a provider of student tracking applications for colleges and universities, announced today that Cornell University has adopted FMSI's Campus Lobby Tracker™ (CLT). The FMSI web-based solution will help better service the walk-in traffic for the Ithaca, NY based university's financial aid office—by reducing errors during the sign in process, and providing improved overall control of the student's lobby experience.
"Our manual student sign-in process would sometimes lead to undesirable outcomes when traffic increased, like students getting missed or sometimes getting called twice," says Ruth Torres, Aide to the Directors of the Office of Financial Aid and Student Employment at Cornell University. "FMSI's Campus Lobby Tracker™ displays to all employees which student is next in the lobby, exactly how long they have been waiting, and which counselor each individual student is with. Having access to this real-time information reduces errors, and professionalizes the overall lobby experience for the students."
FMSI's software-as-a-service queue management system addresses some of the major concerns of today's financial aid office: maximizing the lobby experience for students and employees. Through the collection and analysis of lobby service interactions, CLT quickly empowers management teams with easy-to-read and actionable business intelligence. The FMSI system's dynamic online dashboard and reports include extensive performance management information, such as why students are visiting the financial aid office.
"Initially some of our employees were worried about implementing a new system," adds Torres.
"However, they were completely won over after using the FMSI technology for a only a couple of days. This timely adoption was especially helpful when our counselors were able to successfully utilize the FMSI solution, despite receiving it only a couple days before the major rush associated with the start of the academic school year."
"With so many students' futures riding on the financial aid office, it's imperative to have a streamlined lobby sign-in process," says W. Michael Scott, President/CEO of FMSI. "Without queue management technologies, most colleges and universities struggle to effectively manage the long lines in their financial aid offices, and the student experience is suffering as a result. With a specific focus on higher education institutions, our unique solution for streamlining the lobby sign-in process, and collecting and preparing business intelligence, can help significantly improve the student service experience in your financial aid office."
About Cornell University
Once called "the first American university" by educational historian Frederick Rudolph, Cornell University represents a distinctive mix of eminent scholarship and democratic ideals. Adding practical subjects to the classics and admitting qualified students regardless of nationality, race, social circumstance, gender, or religion was quite a departure when Cornell was founded in 1865. Cornell University has 14,261 undergrads and 7,163 grads. Learn more at http://www.cornell.edu.
About FMSI
Located in Atlanta, GA and established in 1990, FMSI provides a queue management and business intelligence system—the Campus Lobby Tracker™ (CLT). The easy-to-use, yet sophisticated application allows colleges and universities to enhance student service by reducing lobby wait times, creating a more cohesive unit among the staff, and enabling the employees to provide a streamlined consultation through more accessible electronic student conversation logs. Visit the company's website at http://www.fmsi.com/lobbyimprovement or call 877.887.3022 to schedule a complimentary online demonstration of our product.