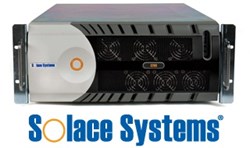 Solace appliances enable us to meet our customers' performance requirements in a package that's easy and cost-effective to deploy
Ottawa, Ontario and Foster City, Calif. (PRWEB) September 24, 2013
Solace Systems and Sycomp announced today that Sycomp will resell Solace messaging middleware appliances as part of the comprehensive IT solutions they offer to large companies across all major geographies.
"For organizations dealing with the real-time collection and distribution of massive amounts of information, Solace appliances enable us to meet our customers' performance requirements in a package that's easy and cost-effective to deploy," said Michael Symons, CEO, Sycomp.
Members of Sycomp's staff have been trained on the implementation of Solace appliances, and the companies have teamed up to deliver solutions to several large customers. The companies are expanding the depth of their partnership by enabling Sycomp to offer first-line technical support of Solace appliances, along with consulting services and training. Sycomp has also installed a Solace appliance in their solution center in Foster City, California so customers can see the hardware in action.
"Sycomp works with many of the world's largest and most globally distributed companies to deliver state-of-the-art solutions that drive rapid business value and competitive advantage," said Denis King, senior vice president, strategic alliances, Solace Systems. "Their business delivery strengths are an ideal fit with our technology strengths, which is the basis for this highly symbiotic partnership."
About Solace Systems
Solace Systems makes appliances that let companies distribute real-time data to desktop, enterprise and mobile applications with higher performance and at lower cost than alternatives. Solace has been successfully deployed by customers in financial services, government, internet services, telecom, energy, manufacturing, transportation and logistics.
About Sycomp
Founded in 1994, Sycomp is an IBM Premier Business Partner and global provider of innovative IT solutions that deliver superior business results. Our expert team of consultants and engineers has a singular focus: to exceed every client's expectations by fully understanding and cost-effectively solving their unique business challenges. Combining deep industry expertise with best-in-breed technologies, Sycomp knows how to deliver solutions that help government organizations and companies of all sizes reduce costs, improve profitability, and build a competitive advantage. Over the past 18 years, we have teamed with more than 150 customers in the public and private sector to design, implement, and support customized world-class IT solutions that optimize system performance, reliability, and availability.