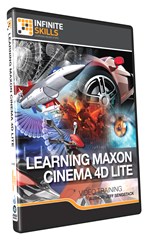 Learn Cinema 4D for After Effects at your own pace.
(PRWEB) September 26, 2013
Software training firm Infinite Skills Inc. last week introduced its "Learning Cinema 4D for After Effects Tutorial," a course teaching the fundamental tools and techniques for creating 3D graphics and animation in the new Cinema 4D module included in the latest version of Adobe After Effects.
After Effects is Adobe's post-production software for digital video. The program allows users to apply digital motion graphics, visual effects, and compositing to professional and home video productions.
Long lacking in 3D capability, Adobe has added a basic version of Maxon Cinema 4D to the latest version of After Effects. Cinema 4D Lite is a full-fledged 3D graphics and animation application, and now comes included as a module within the After Effects interface.
Infinite Skills' "Learning Cinema 4D for After Effects Tutorial" teaches the basics of learning to take advantage of this powerful new feature of After Effects, explaining the Cinema 4D Lite interface, how to use it in an After Effects workflow, and the basic and advanced tools and techniques for creating 3D graphics and animation.
Learning Cinema 4D Lite for After Effects Tutorial Video
Course author Jeff Sengsteck is an Adobe Certified Expert, having authored more than 300 articles and nine books covering various areas of digital media production using Adobe products and other programs. After a career in television news, where he learned the process of video production from daily hands-on experience, Sengstack has turned his attention to training and education, working as a consultant, author, and professor at Santa Rosa Junior College, where currently he teaches video production.
After an introduction explaining the workflow and basic interface, Sengstack starts off by explaining how to set up Cinema 4D Lite from within After effects, covering preferences, shortcuts, and how to start a new scene.
The course then explores the basics of the Cinema 4D Lite interface, looking at the managers, icon palettes, view panels, and the animation palette, before diving into the techniques for creating animation, such as adding objects, working with properties, and creating models.
More advanced topics are covered in chapters focused on splines and extrude NURBS, modeling and deformation objects, working with materials and geometry, using keyframes in animation, as well as lighting and cameras.
"Long-time users of After Effects know that After Effects has historically not offered a full range of 3D tools," Sengstack says. "The Creative Cloud edition has solved that problem by including a full-blown 3D product built in to the program."
"Cinema 4D Lite has a steep and long learning curve, so this course is designed to help After Effects users get comfortable with this exciting new feature."
Free demo videos and a full list of course contents can be found on the Learning Cinema 4D Lite for After Effects page of the Infinite Skills website:
http://www.infiniteskills.com/training/learning-maxon-cinema-4d-lite.html
Infinite Skills offers its Learning Cinema 4D for After Effects Training Video either as a DVD or a direct download from the company website at a retail price of $99.95. Though the compatibility of programs varies, all Infinite Skills titles and formats are compatible with both Mac and Windows operating systems, and shipping is available around the globe. Additionally, Infinite Skills tutorials are supported by project files which correspond to examples in the videos.
About Infinite Skills Inc.
A leader in the field of software training, Infinite Skills designs its courses on a task-oriented model, teaching complex skills by providing hands-on examples and guiding users as they carry out essential functions. Infinite Skills offers a wide range of software titles available as DVDs, digital downloads, and in iPad editions. Infinite Skills now offers a subscription service, providing access to all its training content for a monthly fee, keeping with company's aim of delivering professional training to customers anywhere they want to learn.