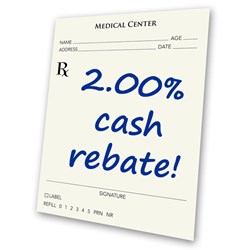 (PRWEB) September 24, 2013
Every quarter NAPUS Federal Credit Union offers its members a cash rebate on certain purchases made on their NAPUS FCU Visa credit card, and the Credit Union has just announced the 4th quarter rebate will be on pharmaceutical purchases made between October 1, 2013 to December 31, 2013. For all of these purchases, members will receive a 2.00% rebate on their card*.
NAPUS FCU Visa credit cards offer members incredible benefits and numerous opportunities to earn extra money. The Credit Union has remarkable Visa card options with no annual fees, no minimum finance charges, non-variable rates as low as 8.70% Annual Percentage Rate (APR), and free cash advances that carry the same rate as purchases. Additionally, rewards programs are available on the Gold, Platinum, and Signature Visa credit cards. NAPUS FCU can also accommodate students with a 7.99% APR Student Visa option.
A notable feature of NAPUS FCU Visa cards is that members are able to personally design their own card. NAPUS FCU members can create their own card design by uploading an image to the CreataCard site that is at http://www.napusfcu.org. The CreataCard system is easy to use, walks members through step by step, and enables members to get a card that is exclusive to them.
Every member with a NAPUS FCU Visa card is eligible to receive the promotional rebates as well as take advantage of all the great benefits of membership at NAPUS FCU. Members who do not have a Visa credit card can easily apply at napusfcu.org/creditcards.
Even if you are not a member of NAPUS FCU, you may be eligible for membership through the American Consumer Council (ACC). Please visit ACC's website at: http://www.americanconsumercouncil.org for more information on membership eligibility. You may also contact the Credit Union at 800-336-0284 for further eligibility information. To learn more or to join NAPUS FCU, go to the membership page at http://www.napusfcu.org/join.
*Rebates will be paid on purchases totaling up to $1,000 per month. Purchases are limited to "traditional" Pharmacies such as CVS, Walgreens, and mail order prescriptions. Pharmacies at places such as Target, Walmart, and grocery stores are not qualified.