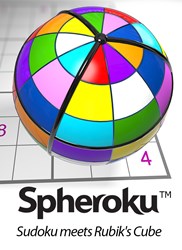 Excellent Thinking Game ★★★★★ well-made and easy to use. Really enjoying it! --by IndePSIsive
Port Orange, FL (PRWEB) September 25, 2013
This new mobile game combines the logic of sudoku with a three-dimensional experience reminiscent of the Rubik's cube. The game is free to install and contains four puzzles, one for each of four difficulty settings. Additional puzzles can be purchased from within the app and are available in four packs, one for each difficulty category and each containing 100 games. The packs are priced at $1.99 each. A set of all 400 games in a single pack for $3.99 is also available. (Taxes if any are not included.) https://itunes.apple.com/us/app/spheroku-1.0/id703031130?mt=8
The mobile game Spheroku™ is a radical next step in the evolution of sudoku. Although the player can solve puzzles in the traditional 2D sudoku fashion, at the heart of Spheroku is a brand new, innovative 3D interface, where the 9 x 9 x 9 grid is mapped onto a sphere. In addition to the logic, memory and observational skills required by sudoku, the player must also use movement and spatial coordination to successfully complete the game. By using colors instead of numbers, Spheroku™ is less intimidating and a more dynamic, fun game. Normal sudoku rules apply: every column, every row and every 3 x 3 area surrounded with a thick black line can have the same number or color only once. (In Spheroku 3D mode, the rows and columns become horizontal and vertical slices of the sphere.)
Spheroku™ has been getting high marks from App stores users. Feedback supplied by those users as well as the users of pre-release versions suggest that this new game has the potential to engage new people in enjoying the brain workout benefits for which sudoku is renowned among mental health professionals.
Sudoku originated in the USA, was popularized in Japan and became a worldwide phenomenon in 2006. It is printed in the crossword and puzzle sections of many newspapers and magazines around the world.
In addition to the iOS version, the game is also available for Android phones and tablets through the Google Play Store.
https://play.google.com/store/apps/details?id=com.threeddept.Spheroku&hl=en
A preview version of the game, under the name Spheroku™, is also available online at http://www.spheroku.com.
3D Department was founded by Pawel Bodytko, a veteran 3D artist and product designer. He is joined at 3D Department by his daughter Alexandra Bodytko, a professional musician living and working in Orlando, FL.
The game has a patent pending.