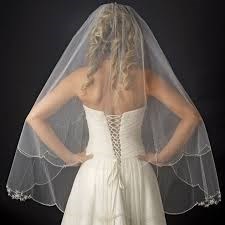 Baldwin, NY (PRWEB) September 25, 2013
The Bridal World hand selects their veils and crystal headpieces to ensure that they are the perfect complement to the bridal gowns in the salon. As NY bridal fashion has shifted over from embroidery and beading to sectional embellishments of Swarovski Crystals, The Bridal World has made it a point for our veils and accessories to follow suit.
The Bridal World's veils feature incredible scalloped trims with crystals and pearls, ethereal angel cuts and Grand Cathedrals with exquisite lace. These selections add elegance to the already high fashion and stylized gowns carried in the salon. The perfect veil matched with "THE" Dress is usually the last personalized touch that helps a bride fall in love with her bridal attire.
One aspect of The Bridal World's veils that truly helps make them perfect is the fact that they are fully customizable. The Bridal World can lengthen or shorten any veil, change the color of the embroidery work, and add a blusher to any veil in the store. Blushers can even be made detachable, so that once the ceremony is over the blusher can be removed while the veil remains on the bride. One of The Bridal World's favorite veil stories was the bride whose gown had both silver and gold details. The Bridal World contacted the veil manufacturer and they were happy to make sure that the veil had both silver and gold on it too.
The Bridal World doesn't stop with veils. Gatsby styled fascinators, fanciful tulle and organza flowers, and headbands on elastic are all available in the salon. The Bridal World even carries Kim Kardashian bridal style headpieces. The Bridal World makes sure to have every option present so that their brides can have the full bridal experience.
What makes The Bridal World a step above the rest are the prices on these accessories. An exquisite crystal and pearl single layer fingertip veil can cost as economically as $189 at The Bridal World, in comparison to over $400 at other salons.
Visit today and see what the Bridal World has for you.
About The Bridal World: The only Salon catering fully to Bridal needs in Baldwin, NY, The Bridal World was founded in May 2005. Offering Bridal, Bridesmaid, Mother of the Bride, Flower Girl, Sweet 16, Bat Mitzvah and Prom Styles, the Bridal World takes the stress out of finding the perfect dress by offering a wide variety of styles such as Mermaid, Fit and Flare, Ball Gown, and A-line in a luxurious range of fabrics such as Organza, Lace Overlay, Silk and Satin. The Bridal World also offers an exceptional selection of accessories such as Veils, Corset Bras, Jewelry and Bridal Belts. For more information on The Bridal World, visit http://www.thebridalworld.com. Follow them on Twitter (@BridalWorldNY), on Pinterest (/thebridalworld/) and find them on Facebook (/TheBridalWorld).