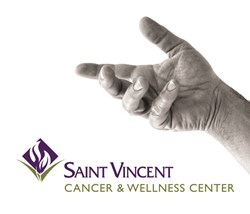 We creatively focused on the authenticity and poetry in motion of the actual physicians' hands as instruments of care and caring, and as a means to reflecting the core essence of the Saint Vincent brand.
Boston, MA (PRWEB) September 25, 2013
Protobrand launches a new integrated branding campaign for the Saint Vincent Cancer and Wellness Center in Worcester. The campaign is punctuated by a core promise of "We're Here. For You," which captures the symbolic significance of the building's location in the heart of Worcester. The campaign reflects the expertise, compassion, and personalized approach to providing healthcare embraced by the physicians who work at Saint Vincent Cancer and Wellness Center.
"We set out to encapsulate the empathy that makes Saint Vincent special. Not just expert cancer care or cutting-edge technology, but compassionate caring as well," says Stephen Hahn-Griffiths, Chief Strategist at Protobrand.
The creative approach for the advertising celebrates the Saint Vincent Cancer and Wellness Center physicians and primary caregivers by uniquely leveraging their actual hands as metaphors for caring and compassion and harnessing the power of human touch. Informed by the learning from Protobrand's most recent Mood of The Nation™ study on America's ailing healthcare system and inspired by Meta4 Insight™ – a unique approach to insight mining that is born out of metaphor elicitation – the new campaign seeks to set the Saint Vincent Cancer and Wellness Center apart from the other leading cancer care centers in Worcester and Boston.
The integrated marketing campaign for the all new Saint Vincent Cancer and Wellness Center breaks this week and involves the use of TV, outdoor, print, online, radio, and transit in the Greater Worcester area.
About Mood of the Nation™ and Meta4 Insight™
Mood of the Nation is a pulse check of people surveyed through Meta4 Insight. The methodology builds upon decades of academic thought and scientific research into the workings of the human mind. Meta4 Insight is facilitated through an online application, using a proprietary image database to reveal people's subconscious minds.
About Protobrand Sciences, Inc.
Protobrand is an independent research and branding consultancy that offers a unique perspective on emotional insight mining. Through Meta4 Insight – our online application for metaphor elicitation – we mine the human subconscious and uncover the rich, hidden motivations behind people's behavior. With such insight as a foundation, we craft strategic and creative solutions that result in emotionally resonant brand relationships. Clients include major consumer brands such as Lee, Disney, Marriott, Bank of America, GAP, Toyota, and Wrigley.