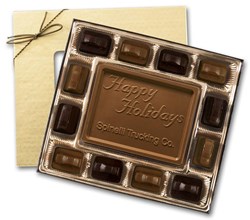 Miami, FL (PRWEB) September 25, 2013
The holidays are quickly approaching. The gift giving season provides businesses with an opportunity to show appreciation for their customers and clients. Smart Resolution makes it easy for companies to give gifts in a style that is unique to their industry.
This year, businesses can choose to spread cheer in a way that reflects the specific industry they work in. For example: If a mechanic wants to remind customers to get a winter tune-up, he can do with high quality themed cards. The industries to choose from include the accounting, architecture, automotive, contracting, HVAC, insurance, landscaping, legal and medical fields.
The new year provides a unique opportunity to combine promotion with giving customers and clients a gift. Magnetic and adhesive calendars give customers a gift they can use while reminding them of the business' contact information. The 2014 calendars can be adhered almost anywhere and come in a variety of shapes such as a house for contractors and a delivery truck for anyone in the auto industry.
The best part of any holiday, though, is the food. Companies can now treat their clients and partners with gifts that are shaped like the products they sell or the services they provide. Smart Resolution offers holiday chocolate gift boxes filled with truffles shaped like cars, shopping bags, or hammers and saws to playfully spread the joy this holiday season. There are also vintage trucks filled with chocolates, which is a great marketing tool for those in the automotive or transportation industry.
Smart Resolution's line of industry specific holiday products are a creative and elegant way to give customers, partners, and clients recognition while staying present in their minds as they enter a new year. Order before October 25, 2013 and Smart Resolution will take 35% off your holiday card orders.
Founded in 2003, Smart Resolution is an online printing company that offers complete solutions for small businesses seeking value, convenience and professionalism. With a user friendly website and the latest trends in technology, they aim for a growing number of customers to elect them as the online printing company of their choice.