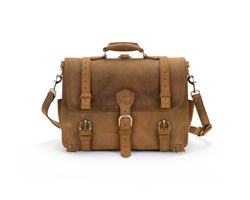 "2nd Life of the Cow" leather highlights the life of the cow's first life."
San Antonio, TX (PRWEB) September 26, 2013
Known for its extraordinary rugged quality and classic functional designs, Saddleback Leather Co. today released a new line of backpacks, messenger bags, briefcases, iPad cases and other accessories made from hand-selected premium leather that showcases ranchers' brands, natural markings, and scratches from the cow's hide to create artisan leather goods as unique as the men who carry them.
The new line is being introduced as part of Saddleback's ten year anniversary and represents a thoughtful return to the company's founding vision: to design leather goods that serve as functional art that exceeds Saddleback's excessively high standards. Everything Saddleback Leather Co. makes comes with a 100 year warranty, making Saddleback Leather products more than just bags or briefcases for today, but are for the next generation too.
"Leather is special because it's durable, natural and it tells a story about a cow's life," said Dave Munson, CEO and founder of Saddleback Leather. "Our new 2nd Life of the Cow line is the same premium quality as always, except now we aren't cutting out the most impressive ranchers' brands and imperfections. They tell about the cow's first life. Maybe the leather in your bag was from a real Casanova. Maybe it got tipped a lot. Maybe it has barbed-wire scratches because it was always trying to break out of the field for an adventure. We don't know for sure, but we want you to see those stories and add your own as you carry the bag around."
All Saddleback Leather pieces are made of full grain leather from 100% American hides. Every piece of Saddleback Leather is designed for lifetimes of satisfaction and features a 100-year-warranty against defects in materials and workmanship.
Saddleback's new 2nd Life of the Cow leather showcases original markings from the cow's life such as insect bites, brands, scratches and scars that develop an authentic and beautiful patina with age and use. No two pieces are alike and are original to Saddleback designs.
"The truth is, sometimes beauty IS only skin deep, like with cows. Their poetry is notoriously terrible, but man, their hides are nature's art. We don't believe that flawlessness equals beauty. Beauty is when we are able to see something as it really is. That's true with humans, too. There are lots of quality people who are really beautiful not in spite of, but because of the marks life has given them," Munson continued.
Saddleback's new leather will eventually come in all four of their colors. Initially, the leather will be available in carbon black and tobacco brown. Briefcases range from $461-$664 and accessories retail for $14-$104 from saddlebackleather.com. There is an assortment of other bags including overnight bags, leather suitcases, messenger bags, satchels and backpacks as well. Visit http://www.saddlebackleather.com for additional information, photos and videos of the bags in action. Join the discussions at facebook.com/saddlebackleather and on twitter @saddlebackbags.
About Saddleback Leather
Saddleback Leather Co. traces its origins back to a single bag, designed and built for Dave Munson when he was volunteering and working in Mexico. In search of the perfect bag at the time, Munson commissioned a local leather craftsman to build his design. As the quantity of orders from fellow travelers could not be denied, Munson started Saddleback Leather Co. in 2003, bringing together classic design with his signature take on personal, indestructible functionality. Thousands of bags later, the Saddleback Leather collection features heirloom-level bags and small accessories produced with the highest quality leather that will age to reflect the owner's trials and travels. Saddleback Leather, they'll fight over it when you're dead.™
Media Contacts:
Sarah Farver
PR Specialist
Saddleback Leather Co.
210-858-5210
sarah(at)saddlebackleather(dot)com