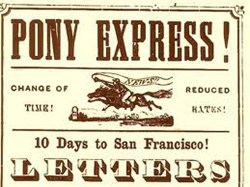 Free overnight delivery on gold orders.
Chicago, IL (PRWEB) September 24, 2013
Agora Commodities takes a unique fresh approach to sending gold bullion through the mail by offering to send clients packages using USPS express overnight services. Gold, platinum, palladium, and rhodium orders above $5000.00 USD will automatically be sent for free via express mail as well. The benefits of this service is that very high valued parcels do not remain idle for an extended period of time. Couple that with the fact that tampering with US mail is a federal offense and it becomes clear why Agora Commodities has adopted this method of shipping for many of its products.
Sending gold by post has always been a point of contention for many investors who would like to buy into the physical gold market but felt it was unsafe to receive gold in the mail. Agora Commodities is addressing this fear by offering overnight delivery.
Agora Commodities is the latest link in the evolution of sound money collection. They offer their clients the lowest premium gold, silver, platinum, palladium, and Rhodium products. They continually seek to provide the fastest, easiest, and safest bullion purchase methods including Dwolla and Bitcoin.