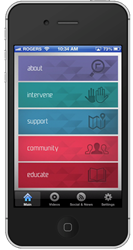 This mobile application will empower bystanders to identify, step-in and help put an end to potential violent incidents involving women before they occur. - John Craig
Ottawa, Ontario (PRWEB) September 30, 2013
The mobile app, named R.I.S.E., teaches students to React, Intervene, Support and Educate when they see possible scenarios of sexual violence emerging. It features scenarios that students might face on campus or in their community, and gives them advice on how to react and respond. It offers support by directing the user to resources and nearby safety services, located through GPS technology. It also helps young people educate others by voicing their thoughts on violence against women and sharing resources with their networks.
"The start of the school year sees the highest incidents of sexual violence on college and university campuses," says Erin Leigh, OCTEVAW's Executive Director. "The R.I.S.E. app empowers young people with the knowledge they need to identify it and address it."
The app applies the promising new technique of bystander intervention to address violence against women by giving witnesses information that will help them recognize incidents that lead to sexual assault—and advice on how to intervene safely. It also shifts responsibility to everyone to step in and support their peers, creating a culture of collective responsibility and helping to prevent violence.
"We spent a year collecting ideas and hearing from young people to develop an app that reflects their experiences and concerns about sexual violence," explains Dillon Black, Project Manager. "We've worked with student groups and community-led steering committees. We've had tremendous support from all four campuses."
R.I.S.E. is part of the Preventing Violence Against Women on Campuses Project, funded by Status of Women Canada. The project involves building partnerships and collaboration on campuses to respond to young women's needs, expand their understanding of these issues, and carry out strategies to prevent, reduce and raise awareness of gender-based violence issues. It also includes research that identifies and responds to issues of violence affecting women on campuses in Ottawa.
"At La Cité collégiale, we strive to ensure that our campus is as safe as possible and this new mobile app is an excellent tool to engage everyone, including the student population, to become more vigilant in assuring the safety of others against sexual assault," says Mona Chevalier, Personal and Professional Development Counsellor and a member of the Women's Health and Safety Committee.
"Carleton University would like to thank Status of Women Canada for funding this project," says Linda Capperauld, Director, Department of Equity Services. "Carleton is dedicated to creating a safe and secure environment for its women students and this project will greatly aid these efforts."
The R.I.S.E. app is available on iTunes and Google Play free of charge for iOS and Android phones. It is available in English and French.
R.I.S.E. is a project of OCTEVAW. The app has been designed in partnership with the Ottawa Rape Crisis Centre (ORCC), Purple Forge and Cinnamon Toast New Media, with support from Algonquin College, Carleton University, La Cité Collégiale and the University of Ottawa.
"OCTEVAW has taken a tremendous step in developing tools for the way students interact with each other," said John Craig, VP Sales and Marketing for Purple Forge. "This mobile application will empower bystanders to identify, step-in and help put an end to potential violent incidents involving women before they occur."
About Purple Forge
Purple Forge (http://www.purpleforge.com) is the leading provider of mobile apps to associations, communities and organizations looking to communicate and enact change. Purple Forge has deployed apps for organizations such as the Green Party of Canada, Food Banks Canada and the Ontario Secondary School Teachers Federation using a unique content management system that allows associations to manage multiple apps across multiple platforms through a single web-based interface.
For information:
Erin Leigh, Executive Director
Ottawa Coalition to End Violence Against Women
613-237-1000
octevawed(at)gmail(dot)com
To set up interviews:
Nicole d'Entremont, Partner
Waterwood Communications
613-608-7668
nicole(at)waterwoodcommunications(dot)com