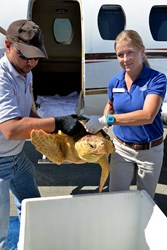 Charleston, S.C. (PRWEB) September 24, 2013
A private pilot from New Jersey stepped up to the plate to transport a threatened sea turtle to the South Carolina Aquarium Sea Turtle Rescue Program for treatment. William Kindle, a board member for the Marine Mammal Stranding Center in Brigantine, New Jersey, flew the 75-pound juvenile loggerhead to Charleston on his Cessna Citation II aircraft earlier today. The injured sea turtle is now receiving treatment at the Aquarium Sea Turtle Hospital, bringing the total number of patients to seven.
More on the new turtle patient:
The loggerhead sea turtle was found in early September at the Oyster Creek Nuclear Generating Station in Forked River, New Jersey missing the majority of its right rear flipper. Upon admission, staff at the Marine Mammal Stranding Center discovered that the turtle was not using its left rear flipper, essentially leaving it with no back flippers. The Aquarium's Sea Turtle Hospital staff, having just released three sea turtles back into the wild, responded to the Northeastern Sea Turtle Coordinator's request for help for the sea turtle with long term treatment. Rehabilitation for the turtle will include physical therapy of the paralyzed limb and cold laser therapy for the wounded limb.
How to Help:
You can help care for sea turtles during recovery in the South Carolina Aquarium Sea Turtle Rescue Program by going to http://www.scaquarium.org and making a donation. You can also find out more about visiting the hospital as part of a behind-the-scenes tour now offered twice daily, seven days a week, both schedule and more information are available online.
For all media inquiries or to request photos or video, please contact Kate Dittloff at (843) 579-8660 or kdittloff(at)scaquarium(dot)org.
About the South Carolina Aquarium Sea Turtle Rescue Program:
In partnership with the South Carolina Department of Natural Resources (SCDNR), the South Carolina Aquarium Sea Turtle Rescue Program works to rescue, rehabilitate and release sea turtles that strand along the South Carolina coast. Located in the Aquarium, the Sea Turtle Hospital admits 20 to 30 sea turtles each year. Many of these animals are in critical condition and some are too sick to save.
According to SCDNR, over the last 10 years the average number of sea turtle standings on South Carolina beaches each year is 130. Of these, roughly 10% are alive and successfully transported to the Sea Turtle Hospital. To date, the South Carolina Aquarium has successfully rehabilitated and released 129 sea turtles and is currently treating 7 patients. The average cost for each patient's treatment is $36 a day with the average length of stay reaching nine months.
About the South Carolina Aquarium:
The South Carolina Aquarium, Charleston's most visited attraction, features thousands of amazing aquatic animals from river otters and sharks to loggerhead turtles in more than 60 exhibits representing the rich biodiversity of South Carolina from the mountains to the sea. Dedicated to promoting education and conservation, the Aquarium also presents fabulous views of Charleston harbor and interactive exhibits and programs for visitors of all ages.
The South Carolina Aquarium, a 501(c)(3) not-for-profit organization and is open Daily from 9 a.m. to 6 p.m. The Aquarium is closed Thanksgiving Day, half day Dec. 24 (open 9 a.m. to 1 p.m.) and Dec. 25. Admission prices are: Toddler's (3 and under) free; Youth (4-12) $14.95; Adults (13+) $24.95. The Aquarium plus the 4-D Theater experience is free for Toddler's, $19.95 for Children, $29.95 for Adults. The 4-D Theater experience only is $6.95 for Children and adults, and free for Members. For more information call 843-720-1990 or visit scaquarium.org. Memberships are available by calling 843-577-FISH.
###