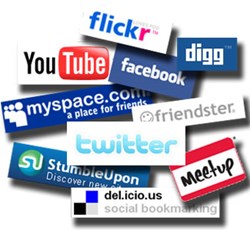 "Social Media signals from a business is now a critical part of #AdaptiveSEO". CJ Rapp #HolisticInternetMarketingDenver
Denver, Colorado (PRWEB) September 24, 2013
The continued growth of social media provides a great opportunity to promote your personal brand. Employers are increasingly turning to social media to find professionals to hire, what could they learn about you? In this very short You Tube Video, we will cover some social media guidelines for professionals to help you avoid some common mistakes.
Could a potential employer find your credentials and good information about you online? Social media makes this easier than ever to establish your personal brand. However, caution should be taken to establish a credible online reputation.
You must establish and build authorship, in the digital world content is still king. Establishing your content "authorship" is vital to establishing evidence on your expertise. Linking content via social media profiles is a great way to build your credibility.
Be in the right places, LinkedIn and Google+ have been built with the professional in mind and are both great places to share your credentials. Take time to setup your profile to best reflect your qualifications, experience and always use an appropriate profile picture.
Network! Meeting and connecting with people online is not really any different than off line. Join groups, circles and hang outs. Plan to participate and connect with like minded professionals. Practice your listening skills and share, but keep listening.
Quality over quantity is super important, this is where many people fail with social media. Don't measure effectiveness by the number of connections or followers, monitor your content to see how many times it is "Liked", "Shared" or "Re-Tweeted".
Social media can be taken from a one-way message and turned into a real-time dialog with millions! Create well defined brand with these social media guidelines for professional, and it will become an asset and pay dividends over your entire career.
1 Click Solutions runs the Denver office for WSI (We Simplify the Internet), the world's largest and highest rated digital marketing company with offices in 89 countries. CJ Rapp, the president of 1 Click Solutions has been promoting a holistic approach to digital marketing for over years now. "
"Effective Internet marketing now requires coordinated strategic elements all working together with a measurable return on the investment. That's why I approach the digital with a holistic concept that takes into account #AdativeSEO & #Web3.0 that includes responsive website development with strong calls to action and conversion architecture, fresh relevant keyword reach content, cutting-edge SEO strategies, mobile websites and apps, social media management and online review & reputation management. Toss in good email marketing and PPC and you have a true holistic solution that will consistently deliver excellent ROI."