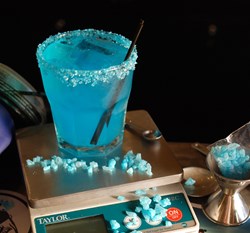 Albuquerque, NM (PRWEB) September 24, 2013
Blue sugar, for rimming
1 ounce Smirnoff Raspberry Vodka
2 ounces Red Bull
2 ounces lemonade
0.5 ounces Blue Curaçao
Splash of Ginger Beer (n/a)
Rim the edge of a cocktail glass with blue sugar. Fill with ice. Pour the vodka on the ice, then add Red Bull, lemonade and Blue Curaçao on top. Fill the rest of the glass with Ginger Beer.
Cheers!
For Breaking Bad fans, Sunday nights are all about one thing. Gathering with friends and fellow BB fanatics to watch the final episodes of the hit series on AMC. Viewers sit on the edge of their seats, in total panic, stress, and anticipation of what's going to happen to these favorite characters. Fans don't even know which side they're routing for anymore. And the biggest panic of all is that in just a few more weeks the show will come to an end much sooner than any of them were prepared for.
What's the best way to enjoy these last few episodes? With a brand new cocktail idea created in honor of the show, by the fans, for the fans.
As viewers all know the show takes place and is produced in Albuquerque, New Mexico. And local Albuquerque business, O'Niell's Pub, is doing its part to send the show off in style by creating a signature cocktail dedicated to the epic series. Not only are the owners and staff big fans of the show, but Brian Cranston himself (aka Walter White) has frequented the pub.
The new cocktail, called Breaking Blue, is made with Smirnoff Raspberry Vodka and Blue Curacao which gives it a gleaming blue hue, just like Heisenberg's one of a kind product.
Along with the signature cocktail O'Niell's is having a special Breaking Bad themed pub quiz on Wednesday, Sept. 25th at 9pm. If you prefer beer over vodka they will be offering the locally brewed Breaking Bad beer, "Heisenberg's Dark". An India black ale created by Marble Brewery.
Create this signature cocktail at home to complete your watch party. Or even after the finale has passed and you are having Breaking Bad withdrawals.