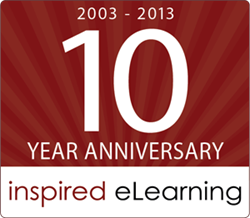 'It's exciting to see how far we've come int he past 10 years,' said Martin Rico, CEO of Inspired eLearning. 'I'm proud of the growth we've experienced thus far and look forward to carrying that forward into our next decade.'
San Antonio, Texas (PRWEB) September 25, 2013
Inspired eLearning, a leading provider of online compliance training and custom eLearning development solutions, is celebrating its 10th Anniversary this year.
"It's exciting to see how far we've come in the past 10 years," said Martin Rico, CEO of Inspired eLearning. "I'm proud of the growth we've experienced thus far and look forward to carrying that forward into our next decade."
The San Antonio-based company has come a long way since 2003 when Rico decided to start a company to provide online security awareness training for organizations. At the time, online training was still in its infancy, but Rico could see the potential for the technology to make workforce training much more efficient and cost-effective, especially for a geographically diverse workforce.
As eLearning grew, so did Inspired eLearning's offerings. Initially, they only provided security awareness training but offerings expanded to include global compliance training, employment law training in partnership with Fisher & Phillips LLP, one of the leading employment law firms in the nation, custom courseware design and development, and an enterprise-class web-based learning management system – the iLMS. As the offerings grew, so did the size of the Inspired eLearning team. Today, Inspired eLearning has more than 40 team members in four different countries.
Inspired eLearning's growth was recently recognized by Inc. Magazine when they were named to their 2013 Inc. 5000 list of the fastest growing private companies in America.
About Inspired eLearning:
Inspired eLearning is dedicated to delivering the highest quality enterprise educational products that transform your corporate culture, nurture and enhance your workforce skills, build productivity, and deliver maximum ROI for your education budget. We offer a turn-key educational solution for your enterprise level training requirements that include off-the-shelf compliance training, custom courseware design and development, content integration, and a fully hosted web-based eLearning course delivery and tracking system using the iLMS (Inspired Learning Management System). For more information, visit inspiredelearning.com.