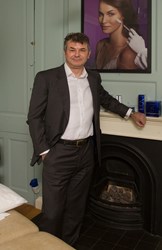 These awards recognise our efforts and we are very pleased to have our hard work rewarded in this way.
Northampton (PRWEB UK) 24 September 2013
Mulberry House Clinic & Laser Centre in Hardingstone, Northamptonshire, is celebrating after reaching the finals of the prestigious Aesthetic Awards 2013.
Aesthetic Physician Dr John Tanqueray MB BCh MRCGP DCH DRCOG DipOccMed BCAM explains: "We are delighted to have been recognised publicly in this way. Since starting out in 2002, we have spent 11 years building up a successful independent practice and have always strived for the highest possible standards."
"These awards recognise our efforts and we are very pleased to have our hard work rewarded in this way."
The final winner will be judged on their website and information provided as well as a mystery shopper, who will have a full consultation to experience the clinic's standards of service and patient care.
Dr Tanqueray commented: "We believe that assessing the consultation is a really important factor the judging process."
"At Mulberry House, we understand that every patient is unique with their own set of requirements. We give the best service by spending time in consultation with each patient to fully understand their requirements as well as their physiology; so that we can give the most suitable advice on treatment. This investment in the patient is rewarded by our high levels of satisfaction and loyalty. Indeed, some of our patients have been visiting us regularly for treatment for over a decade."
Established in 2002, the Northamptonshire based clinic has a significantly longer track record than most in the sector and has built up an impressive reputation with high levels of patient satisfaction. They are also registered with the CQC as further demonstration of their commitment to high standards.
The clinic provides a staggering range of professional skin treatments, with injectable anti-ageing injections and facial fillers administered by clinic founder and owner, Dr John Tanqueray.
In addition, the Company has invested heavily in the latest skin care technology, to ensure that their patients have access to a wide choice of treatments for optimum results. The clinic now offers laser skin rejuvenation as well as LED skin therapy (light emitting diode), radiofrequency, PRP (platelet rich plasma) and plasma energy skin regeneration treatment for advanced skin therapies. Popular laser hair removal is also available.
Mulberry House Clinic & Laser Centre is based in Hardingstone, Northamptonshire; and remains independent and doctor-managed with its patients' best interests placed firmly at the heart of the business.
Dr Tanqueray himself is a leading expert on non-surgical skin treatments with over 14 years of experience. He also now trains other medical professionals in use of injectable anti-ageing products.