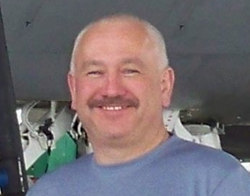 I know the hurdles military pharmacies face - I've been there. We have solutions. Guaranteed Returns® has been a government contracted pharmaceutical returns supplier since 2001. We're the only ones who can say that.
Holbrook, New York (PRWEB) September 27, 2013
This month, Robert "Bob" Frechette, VP, Government Division, marked his 10th anniversary with Guaranteed Returns®. Bob came to Guaranteed Returns® with 22 years of Air Force pharmacy experience where he retired as Superintendent of Pharmacy Services.
Today, Bob is responsible for working with all Guaranteed Returns® Department of Defense customers including the Air Force, Navy, Army and Coast Guard.
Bob proudly remembers that early on in his Guaranteed Returns® career, he was able to go in and help an Air Force base pharmacy that was hard hit by Hurricane Katrina. Guaranteed Returns® removed all of the pharmacy's soaked and destroyed medicines.
Congratulations Bob, we salute you for your service now and then...
About Guaranteed Returns®
For over 25 years, Guaranteed Returns® has provided pharmaceutical return services to hospital, government, independent retail, chain-store, LTC, Mail-Order and clinic pharmacies.
Contact Guaranteed Returns® at 1-800-473-2138, on LinkedIn or at guaranteedreturns.com.