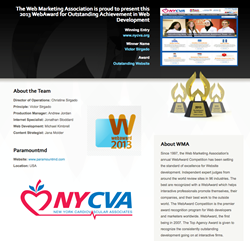 The NYCVA website, designed and developed by healthcare marketing firm Paramount/MD, received an award for Outstanding Website.
New York, New York (PRWEB) September 25, 2013
New York Cardiovascular Associates' website, http://www.nycva.org, was selected as winner of the Web Marketing Association's 2013 WebAward for Outstanding Website. The New York City health center's site, unveiled earlier this year, was designed and developed by the healthcare marketing agency Paramount/MD.
"We are so pleased that our new site was chosen to receive this award," said a NYCVA spokesperson upon hearing the news. "When it was clear that our old website needed to be renovated, we knew Paramount/MD would do a great job for us. We couldn't be happier with the result."
The Web Marketing Association considered a number of criteria in assessing websites for the Outstanding Website award. A panel of three expert judges evaluated entries along seven criteria: design, innovation, content, technology, interactivity, copywriting, and ease of use.
Paramount/MD's team of expert designers, developers, and healthcare writers worked together to create the NYCVA website, employing the latest technology and cutting-edge creative elements. "We produced a unique website for New York Cardiovascular Associates that is both appealing to visitors and effective for converting new patients," said Paramount/MD Principal Victor Sirgado. "It's an honor that the site won this award."
For more information, visit:
http://www.nycva.org
About New York Cardiovascular Associates
New York Cardiovascular Associates is New York City's premier center for cardiac, vascular, pulmonary, sleep disorder, and primary care. The center has been providing the five boroughs of New York City with leading-edge care since 2005. New York Cardiovascular Associates is unique in giving patients access to a team of physicians that encompasses every field of cardiology. From the center's Manhattan office, NYCVA cardiologists provide complete patient services, including heart disease prevention, cardiac screenings, and treatment for the full range of cardiovascular conditions. In addition to superior cardiac care, New York Cardiovascular Associates provides vascular, arterial, pulmonary, and internal medicine care. Physicians and specialists work together to develop comprehensive treatment plans, whether treating patients for a single condition or for multiple health issues. NYCVA has earned multiple national accreditations, and its doctors and technologists are recognized among the top experts in their fields.
New York Cardiovascular Associates
http://www.nycva.org
Tel. 646-233-1838