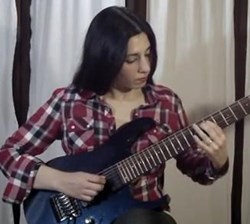 (PRWEB) September 24, 2013
GuitarControl.com announces the release of "Lead Guitar Lesson - How to Play The Count of Tuscany Guitar Solo by Dream Theater," the latest in their series of instructional YouTube videos.
The progressive metal band Dream Theater was formed in 1985 by guitarist John Petrucci, bassist John Myung, and drummer Mike Portnoy, while they were still students at Berklee College of Music, in Boston. With the subsequent addition of keyboardist Jordan Rudess and vocalist James LaBrie, they became stable until Portnoy's replacement by Mike Mangini in 2010.
Dream Theater's music is both melodically sophisticated and intellectually challenging, defined by a quasi-symphonic approach that relies heavily on the band's technical prowess and precise execution. The Count of Tuscany, is the final cut on the band's acclaimed 2009 album, Black Clouds & Silver Linings.
In this video, Alejandra Mesliuk demonstrates how to play Petrucci's opening solo from The Count of Tuscany. As is her custom, Alejandra first plays the solo at normal speed and then repeats it slowly, so the student can better see the fingering. This is a complex solo that relies on string bends and slurs for much of its musical impact. Most students will benefit from clicking the link that leads to the available tablature notation. Alejandra's approach in this lesson leads the student directly to the music, without any detours into theory or technique. Demanding a reasonable level of musical knowledge and playing skills, this video is aimed at advanced players.
Alejandra Mesliuk is a highly accomplished and classically trained guitarist from Argentina who is equally comfortable playing Jazz, Rock, and Classical pieces. A rising star in the music world, and a sought after instructor in her homeland, Alejandra is working on her first book: Technique and Expression - method of tapping and slap guitar for 6 & 7 strings, and is also preparing her first solo album Los locos de Dios.
Guitar Control.com is a consortium of professional guitarists dedicated to providing the highest quality musical instruction. Producing both web-streamed lessons and comprehensive multi-DVD courses, Guitar Control offers instruction for every style of playing and for all musical genres. Guitar Control's YouTube channel (youtube.com/guitarcontrol) offers 399 (and counting) free video lessons.