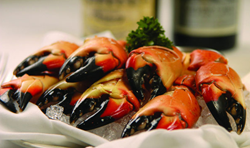 (PRWEB) September 24, 2013
GetMaineLobster.com, a live Maine lobster and prepared seafood meal delivery service, is currently offering 30-percent discounts on Maine Jonah crab meat and Maine Jonah crab claws for delivery within the continental United States.
The transition from summer to fall is the perfect time of year for seafood fans to enjoy the sweet, rich flavor of Jonah crab meat. The taste, texture and the nutritional benefits of Maine crab meat makes this seafood delicacy the ultimate addition to a variety of comforting dishes such as seafood chowders, crab cakes or salads.
Three pounds of Get Maine Lobster's fresh, hand-picked Jonah crab meat is currently on special for $139.00, a discount of $60.00, with shipping included. Add this rich, pearl-like Jonah crab meat to any appetizer or entrée, such as GetMaineLobster.com's own recipe for Fresh Maine Crab Sliders.
Few things are more satisfying than cracking open a Maine crab claw and pulling out a large chunk of delicious crab meat before dunking it in a pool of melted butter. September is the perfect time to take part in this experience and with GetMaineLobster.com's current specials, the experience can be an affordable one as well. For only $84.99, a discount of $40.00, GetMaineLobster.com will ship four pounds of Maine Jonah crab claws fresh from the dock to the doorstep. For larger gatherings or heartier appetites, eight pounds of Maine Jonah crab claws are available for $139.00, a discount of more than $60.00. Shipping is included on both specials.
For those having trouble deciding between Maine Jonah crab meat and Maine Jonah crab claws, GetMaineLobster.com is offering a Jonah Crab Ménage à Trois special, which includes one pound of fresh, hand-picked Jonah crab meat, four pounds of Jonah crab claws and one pound of Maine crab meat for only $139.99, a discount of more than $60.00. This is a smart and convenient option for entertaining guests who appreciate, or have yet to experience, the unforgettable flavors of Maine seafood.
To learn more about GetMaineLobster.com, browse its wide range of seafood offerings, and to access other lobster recipes or view current specials, visit GetMaineLobster.com or call (866) 562-4817. Stay updated and Like us on Facebook or follow us on Twitter. For even more lobster news and recipes go to JustAddLobster.com.
About GetMaineLobster.com
GetMaineLobster.com, a division of Black Point Seafood and Black Point Gourmet, hand-selects the finest Maine lobster, seafood and beef products for convenient distribution throughout the United States. Their passion is to make fresh, quality seafood readily available to customers across the country, which is why they buy from only the most trusted, well-established suppliers to ensure that they receive the finest products available.
GetMaineLobster.com was selected out of the more than four million small American businesses served by Chase bank to represent its new Platinum Business Checking product for its 2013 national advertising campaign.