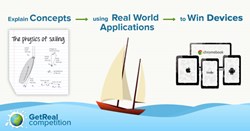 In order to build confidence and make progress, students need to get involved in their own learning.
Palo Alto, California (PRWEB) September 24, 2013
How were the pyramids constructed using congruent triangles? What does the law of conservation of energy tell us about how kinetic and potential energy change on a roller coaster?
CK-12 Foundation announces the second edition of its Get Real Competition providing students a chance to win devices for exploring these questions that relate what they learn in the classroom to the world they live in.
CK-12 is an educational non-profit headed by Neeru Khosla that provides free science, technology, engineering, and mathematics (STEM) resources for students all over the world. Their library of free resources include comprehensive digital textbooks, exercises and quizzes, videos, simulations, lesson plans, interactives, and other supplementary materials. The Get Real Competition is another addition to its free resources and is an incentivized, project-based contest meant to "challenge students to use their creativity and critical thinking to teach concepts in a way that is engaging, impactful, and fun."
"In order to build confidence and make progress, students need to get involved in their own learning," says Khosla. " We want to provide that opportunity and to encourage them to take an active role in their own as well as their peers' learning by creating content that they all can relate to."
The competition challenges teacher-sponsored student groups to develop and submit demonstrations of how a mathematical or scientific concept from CK-12's concept collections applies to a real world phenomenon. CK-12's competition page states, "Real world applications can make a difference in the way we learn and teach and understand our world." Submissions in the form of powerpoint, text, or video will be judged based on their relevance to the concept, impact, creativity, and clarity.
Submissions from the last competition came in from across the United States and from students from 6th grade to 12th grade. The entries included projects on canyoneering, video game physics, family genetics, chickadee ecology, thin ice, and many other examples of science and math in the real world. The grand prize winning entry from the last competition was submitted by Leadership Public School out of Oakland, CA. Students from LPS looked at how catalysts apply to the "Hydrogen Peroxide Rocket Belt"; their efforts won their school 25 iPads.
For future contestants, Cristian from the previous winning team at LPS, Oakland, had this to say, "Don't give up. If you feel like you won't achieve it, you will achieve it! If you put so much hard work and dedication into your work, you'll do it. I know you will."
The competition ends on November 26th. Students can choose any example from the real world as long as it is educational and relates to a concept in the CK-12 library. Acceptable formats for projects include .doc, .ppt or .pdf, as well as, any embeddable file from sites such as Prezi, YouTube, Vimeo, or SlideShare.
The winner will be announced December 13th.
About CK-12 Foundation
CK-12 Foundation is a non-profit organization dedicated to increasing access to high-quality educational materials for K-12 students all over the world. CK-12 offers free high-quality, standards-aligned, open content in the STEM subjects through an integrated set of tools for learning: digital textbooks, concept-based learning resources, progress tracking, assignment and testing, and more. All products can be customized to match the needs of the student, educator, or school. By providing these free resources, CK-12 is working toward educational equity for all.
Contact Information
Joshua Khani
Partner Relations Associate
(650) 353-4209
joshua(dot)khani(at)ck12(dot)org